Orlando Pirates
EXTRA TIME: Amanda Dlamini's worried about Orlando Pirates quality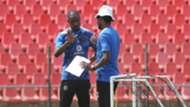 Amanda Dlamini is majorly impressed with Orlando Pirates performances under Micho, as well as how the group is coming together.
She's pointed out that Bucs have a strong enough squad, built for success in the PSL and Caf... just like Mamelodi Sundowns previously had.
Could we see the changing of the guard of honour in South African football? Read Dlamini's string of comments on Twitter here, as well as the reaction of fans.
Guys, so I'm a bit worried&excited at the same time about the upcoming season specifically Orlando Pirates.! This club has bought some quality players. Who is going to compete with this team..?
They are now going the Sundowns way of 2 equally strong squads for Domestic&Caf

— Amanda toki Dlamini (@Amanda_Dlamini9) July 23, 2018
Absolutely. One has to be ambitious, to believe and to set new standards.! It's about hunger, making a name for yourself, writing history or rewriting history. It can't be about money and fame only..! Cummon.

— Amanda toki Dlamini (@Amanda_Dlamini9) July 23, 2018
There's one team in particular that still believes in miracles.. Not buying enough quality and still playing oldies from 2010...I don't want to mention names bazandi bulala sis @Amanda_Dlamini9 

— invincible CA(SA) (@TphendaneP) July 23, 2018
their squad is not tested they YET to win something, we don't whether they will be chockers like the Papic team?

— Thabang shadung (@tbeesade) July 23, 2018
Quality is not good until it is test..We are one week away from the new season..I will watch and see..you can have all the quality in the world if you can score goal..For you to survive you need to defend well...They are too good going forward what about defending?

— Boitumelo (@Boitumelo2030) July 23, 2018
I think going to Zambia was a master stroke for BUCS in preoaration for CAF...

— Gringoe Mashalaba (@gmashala) July 23, 2018
I think they are Sundowns' strongest challengers. Chippa United has also made some relevant signings.

— Coach_Kat (@Kay_Gee007) July 23, 2018
They really bought well to be honest with an exception of one proven central defender hence they've been after Tyson for this long,i won't lie last season got me believing again just the way they've go about things the kind of football they play I'm honestly Excited

— Thabo S. Ntshingila (@Lada_Dala) July 23, 2018