Premier League
Ex-Everton defender Heitinga: It's been difficult since retiring... I can no longer afford private jets!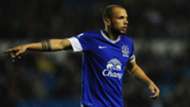 Ex-Everton defender John Heitinga says it has been "difficult" to adjust to life without private jets since deciding to retire from professional football.
Liverpool ban The Sun from Anfield
The Dutchman, who played for Everton between 2009 and 2014, decided to hang up his boots at the end of last season with Ajax, with whom he began his career with.
And Heitinga has since revealed that he and his family are missing their life of luxury while he was a footballer.
"When I was still playing football we had a lot more money coming in. Our expenditures were likewise. Now we are trying to adjust," Heitinga told 1limburg.
"In the past, we sometimes chartered a private jet, but we don't do that now. On holidays we do still rent a fancy villa, but you get different categories of 'fancy'.
"We are trying to get used to it. Sometimes it is difficult."
Heitinga, who also represented Atletico Madrid and Fulham during his playing days, is currently a coach with Ajax.