Sponsored
Ex-Barcelona star Ronaldinho talks Carlos Puyol influence on his career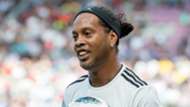 Ronaldinho has revealed that former Barcelona teammate Carlos Puyol played an integral part in shaping his career.
Gaucho, a man, who was at ease with the ball even before some of the world's deadliest defenders, cannot remember of any opposing defender that gave him a hard time than the retired Spanish central defender - Puyol.
The duo played together at Barcelona after Gaucho linked up with the Catalan side in 2003 where he went ahead to make 145 appearances. During this time, the Brazilian star, who hanged his boots in 2018, scored 94 goals for the Blaugrana.
But when asked to pick one of the toughest defenders he ever faced in his career, the 38-year-old retired attacking-midfielder proudly bragged that he can't think of any defender, who mounted a tougher challenge to him than his Barcelona team mate Puyol but in training.
"I trained with Puyol, one of the toughest defenders. I don't think there was a tougher defender than him. He was hard to beat in training," Gaucho told Goal.com in an interview.
Ronaldinho joined Barcelona, by then managed by Frank Rikjaard, on 20 July of 2003, from Paris Saint-Germain. He went on to score 22 goals in 45 appearances in his first season with Barçelona.
Gaucho is the second player after Diego Maradona to have received a standing ovation from Real Madrid fans at the Santiago Bernabéu after he scored a brace in Barca's 3-0 win over their La Liga arch rivals. 
Ronaldinho is visiting Kenya as a guest of Betika and the matches attended are sponsored by Betika and was also present at the opening of the Betika stores.