Kolo Touré
Ex-Arsenal and Man City defender Kolo Toure accidentally reveals guilty pleasure after mishearing question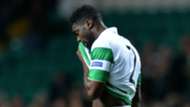 Kolo Toure is man who can laugh at himself, which is just as well given that he has accidentally admitted to being a big Whitney Houston fan.
The experienced defender, who is now on the books at Celtic, made the revelation during a recent Q&A session with some young supporters of the Scottish champions.
Terry to leave Chelsea after 22 years
Toure was asked about his favourite song, with those in attendance expecting to be given a terrace chant in reply.
Instead, the innocuous question led to red faces all around.
"Don't laugh, okay?" Toure said. "But I like Whitney Houston."
@Arsenal invincible and @celticfc defender Kolo Toure inadvertently reveals this famous pop star as his guilty pleasure. #celticfc #AFC pic.twitter.com/VgDYwpnqL4

— Hayters Teamwork (@HaytersTeamwork) April 17, 2017
The 36-year-old was quickly informed that he had given too much information away, leaving the Ivorian with his head in his hands.
Toure is not the type to get too down on himself, though, and it was not long before his trademark smile was back in full view.
Ronaldo's incredible goal records
With the session back on track, it was finally revealed that his favourite 'song' is in fact the 'Kolo/Yaya' chant pieced together by Manchester City fans when both brothers were turning out at the Etihad Stadium.
With Toure back in the swing of things he then proceeded to lead the assembled media and students in a rendition of said song, complete with dance routine.
Life is rarely dull in the world of Kolo Toure, and we are all the better for that!