Liverpool
EDITORIAL: Dispelling Liverpool's zonal marking myth and solving the real problems at the back
South Africa Chief Editor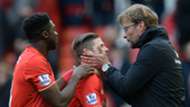 The Zonal Marking Myth
I will begin by disproving some of the most common misconceptions on Liverpool's challenge at the back. For this you have to turn back to the Rafa Benitez era. The Spanish coach wasn't the first manager to use the zonal marking system in the Premier League. In Europe the system was used by some of the greatest teams in history such as AC Milan. Despite this fact, you'd hear the blame placed on the zonal marking system (instead of human error) during Benitez's time at LFC.
The print and online journalists heard about it from the television pundits, and instead of doing their own research, you'd read endless, lazy copying and pasting of this view week in and week out. Ultimately, it doesn't matter if you prefer man marking, because most embarrassing to the pundits was the actual results produced by Benitez's Liverpool at the end of the seasons. Rafa's team was very stubborn when it came to conceding, and it so happened that now and then when they did concede, the opposition had to get a lucky goal from a set-piece or somewhere. So, the critics pointed out that this zonal marking system didn't work on set-pieces. Now, if the presenters explained this to Benitez, maybe he would change his mind or change his profession as a coach? No.
At the time in question Benitez's Reds started learning his methods as he was building this team from 2005-06. Yet, Liverpool finished on top of the set-piece defending league statistics for that whole season using, yes, you guessed it - the dreaded ZONAL MARKING system. Let's not forget the Reds won the Uefa Champions League that season.
So, fast forward over a decade and Jurgen Klopp is using the same zonal marking system and for set-pieces too. I wasn't surprised that the media started raising all the same questions about zonal marking again. What does that prove? No research was done by these journalists, mostly former players for all these years. 
The Set-Pieces Myth and two real solutions
To make matters worse, while these pundits were blaming zonal marking at Liverpool, they probably were not watching those set-pieces and were just copying and pasting opinions again... because for many of those set-pieces the goals were conceded after a second or third phase. The same problem existed during the Brendan Rodgers reign (who used man marking). Now, even with Klopp the goals are often being conceded AFTER the clearance from a set-piece... or even after two clearances. I can sense that a goal is coming when Liverpool's failed with three clearances in a row.
The real problem is that the clearances were made back into dangerous areas, when the safety first objective should be to simply head it out, or kick the ball into the last row. Another real reason for the issue (and not zonal marking), is that the players were too lethargic to reposition themselves after the initial clearances. 
Even the opposition took long to expose Liverpool's real weakness. In recent games you will find that certain managers did their homework, instructed their teams to make a short pass from the corner, to test the Reds re-arrangement abilities. As a result, Klopp has been working harder on this in training and recent performances have shown an improvement in this area.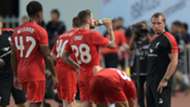 Training defenders instead of buying defenders
What you must give Klopp credit for is that (instead of wasting time talking about players he couldn't sign) he is focused on improving his players, taking them to the next level with the hard work of training. That's part of their jobs but today you only hear about improving teams with transfers. That's lazy, popular journalism and football management. In fact if you've watched all the players, Klopp has improved their games dramatically… even the defenders. The most criticized terrible bunch Alberto Moreno, Dejan Lovren and Simon Mignolet were making schoolboy errors nearly every week before Klopp came in. After extensive training periods, this trio is improving but it only tells you how bad they were under Rodgers. The level of improvement is not good enough for the standards that Liverpool require. You don't want a player to be average for a run of games and then in a certain game one of these three are sure to turn a victory into a draw… That is the problem. Klopp can reduce their errors over a short period of time but you only need one of these three to make a mistake to cost you. You don't want a player to be barely good enough. You want a higher quality performance that wins you games. That costs money, and points in your favour.
Klopp finished his Brendan Rodgers homework late
I wrote about this fault quite early in Klopp's reign at Liverpool. Instead of making conclusions that were quite obvious from Brendan Rodgers time at the Reds, Klopp decided that he will give everyone a fresh start to prove themselves. In many cases this is the right method. However when certain players have a natural tendency to be clumsy, no matter how superior your training methods, you're not going to drive those mistakes out of them completely. As mentioned above you can reduce the mistakes but when there's more than one player guilty, the odds of a repeat error are higher. This is why Klopp's taking so long to solve Rodgers' problems. If he did his homework thoroughly then he wouldn't be repeating the same problems long enough.
Ironically the reason Klopp got stuck in this trap is that he has the confidence in his methods to turn average players into high achievers and he's accustomed to working within these limitations from his time at Dortmund. Look back at BVB's great run to the Champions League final and you will notice some ridiculous defensive mistakes in key games, and at the same time you'd notice their awesome, never-say-die fighting spirit and attacking threat to surprise famous clubs.
Since Klopp joined LFC about two years ago, he's spent just a few million pounds on central defense… and a few more million on a left back. All those additions have come in the talented youngsters for the future category. The established players Joel Matip and James Milner (turned into a backup LB by Klopp when Rodgers signed him as a midfielder) were signed for free (without a transfer fee). The team was so desperate for reinforcements when Mamadou Sakho was sent packing, that even Lucas Leiva was used as a stop-gap option last season. This season Joe Gomez has effectively replaced Lucas. Looking at these options with Ragnar Klavan, I'd have more confidence in bringing back the retired Jamie Carragher, or even Steven Gerrard to slot straight into that backline… instead of these lot. That's how lacking the team is right now, when compared to investment in the past.
It must also be noted that when you hear Klopp backing his players after poor performances, it doesn't mean he can't see through all their defensive mistakes. He has to back them because he doesn't want to kill their confidence.
The biggest critics state that no matter which player comes in, it's the system of Klopp that's setup to leak goals. That is correct to a certain degree but you will still leak in far less if you had Virgil van Dyk in there instead of Lovren. Having written about the marking system for set-pieces, what is the exact problem with the pressing system in open play?
Game intelligence and experience to cover space
The problem is not zonal marking again. The actual problem is the game intelligence of the players at the back. Such intelligence comes from experience. It's not about how fast you cover that ground because slow experienced players are able to boss that space with less movement, based on experience and instinct. For Klopp it's all about high energy and movement to press around those spaces. So, in theory if you're inexperienced at the age of 21 you can still do the job of closing down Real Madrid's attackers.  However in practice we know that defending is not just about how intense you're pressing.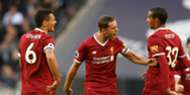 Liverpool falls into their own pressing trap
Having analyzed Liverpool's superb ability to regain the ball under Klopp, I've also noticed how Liverpool can easily receive their own medicine. This is the fatal flaw:
Question: Why do you want to regain the ball so quickly? Answer: To quickly pounce on a counter-attack with superfast wingers and wing-backs.
Now, look at what happens when Liverpool do regain that ball. The players correctly move into the killer positions BUT the problem is that sometimes the provider doesn't find the right through-ball and Liverpool themselves become vulnerable on the counter. Sometimes they have time to recover, but if there's an error in Liverpool's counter attack that starts deep, such as in defensive midfield, the ball is suddenly with the oppositions attack and Liverpool's caught with their pants down. This problem occurs many times.
How do you solve the problem of receiving your own medicine?
You must accept that this will happen from time to time, but to reduce the numbers, this is what you must do and who has this ability? The player on the ball in this high risk position needs to understand that there's no way he should be making a mistake in that moment. We are talking total responsibility, calmness and accurate execution. Not all your players are going to have these attributes and you can't ask all your players to be placed in this position during the game. MAKE SURE YOU DON'T PLACE THE LIKES OF ALBERTO MORENO AND SIMON MIGNOLET IN THESE POSITIONS. Yes, I'm even going to talk about passing the ball back to Loris Karius under pressure. If you want your goalkeepers to execute the pass for you, then sign Itumeleng Khune and not Mignolet's and Karius'.
Even the midfielders and defenders need to learn to play it a little safer (now that's not this team's philosophy) or then get rid of the ball for your counter-attack much faster (before the opposition closes you down).
No control. No containing = random collisions
The other big problem with this system is the reliance on the randomness of the bounce of the ball and result of random collisions. It's just not your day, right? This factor is important for Klopp's style because in intense pressing, you are not controlling your tackles and you are not containing the attacker either. You are pressurizing the attacker by going straight into him. I'm not making it up. Just look at the football. Even when the Liverpool players are brilliant and winning those presses, closing them down really fast, they still don't know where the ball is going to end up after that move. Randomly, it ends up with the Liverpool player when they're pressing as a pack… but when you're playing at such a fast pace, there's many occasions when the ball just ricochets off a Liverpool defenders foot in such an odd way, that they never expect it to go in a certain direction. Now, you can say that that's normal for any game… but such a result is more common when you're pressing like that (than not), and such a result is bound to be more lethal to you, if you have a number of players going into that press and the others are not positioned to contain the counter attack.
So, how do you solve this problem? Think ahead. For this you need experience and vision of what could go wrong. I don't see those attributes in Lovren and Moreno.
The advantage of the system
You have to take the rough with the smooth here. There are advantages to this system and I just listed the disadvantages. I would say that if you have superior players than your opposition, then why do you need to gift your opposition chances by taking higher risks? Does it mean Liverpool should play a different way against lesser clubs who also push for high energy? Perhaps but it's not always necessary. You just need to realize that this is frankly why Klopp wasn't interested in coaching Bayern Munich or Real Madrid. Why would they want to play this way? Klopp wants to win the hard way and over the year's Liverpool's learnt that they have to win the hard way… Klopp fit's the Red's romantic ideals in every way. This is a system built for the underdog… and if Liverpool gets a tough draw in the Uefa Champions League, Klopp won't be afraid of facing a Real Madrid or Bayern. For this reason the Reds best bet for success (just like Rafa Benitez's teams) is the Cups. It's only when they can solve the listed problems that they can compete for the league.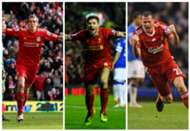 Leadership to go with experience and responsibility
That is of course, until Liverpool's allowed to replace their clumsy signings with a more reliable crop. I would advise Klopp to take a leaf from Rafa's system and sign some leaders. Benitez built a team with eight leaders: Pepe Reina, Jamie Carragher, Javier Mascherano, Xabi Alonso, Steven Gerrard, Dirk Kuyt, Fernando Torres (was Atletico captain) and Daniel Agger. This was the best Liverpool team in the EPL era. I don't think there's one leader in the current Liverpool team. They're desperate for a leader to get right in there and communicate to that backline. Let's see if FSG thinks of this factor over resale value and age when they sign their next three defenders.
I've only covered some of the key problems at the back. I'm quite sure these problems won't be addressed on the pitch soon, so there will be another opportunity to write about this subject again. Soon we're moving into November… so there's time for Klopp to work on these problems. With Manchester City's form in the EPL you can't buy this time, but in the UCL you don't want to reach your peak before the knockout stages.