Malaysia Cup
Durakovic rues missed chances against Felcra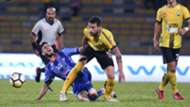 Perak failed to make good of the home advantage and had to settle for only one point against the lowest ranked team in Group A of the 2018 Malaysia Cup competition. A result that left them trailing two points behind Terengganu FC, who will be their next opponent in the competition.
Mehmet Durakovic started with his usual line-up bar several changes with the absences of Shahrul Saad and Amirul Azhan in defence. Their place were taken by K. Sathiya and Idris Ahmad respectively.
The Bos Gaurus had plenty of chances to find the back of the net but on an important night, left their shooting boots at home. Most cupable on the night was centre back Jad Noureddine who headed wide from close range, when it was easier to score than miss.
"We controlled the game. We had so many chances but didn't convert. Felcra came here for a point and they defended very very well.  It's very important to get onto a good start. We only have one point tonight." 
"We'll do a good recovery and look at how Terengganu played. It's another game in a week's time. Hopefully the injured players can come back," said Durakovic in the post-match press conference.
The home side were also hampered when Nor Hakim Hassan was brought down in the second half but the referee only awarded a free kick when the Perak players felt that the contact had happened inside the penalty box.
In his desperation to win the match late on, Durakovic hauled off two of his defenders in Idris and Sathiya with Brendan Gan and Leandro dos Santos moving into defence, to bring on more attackers on the pitch but it was to no avail.
Perak will have a chance to get their Malaysia Cup campaign back on track when they entertain Terengganu FC in Ipoh on August 11.