African All Stars
'Drogba told me to break Premier League record' - Mohamed Salah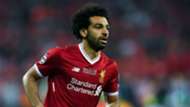 Mohamed Salah currently holds the record for the most goals scored by an African in a single English Premier League season, and reveals that he had the blessings of former holder Didier Drogba.
The Egypt international enjoyed a surreal debut season at Liverpool, scoring 44 goals in all competitions, winning several accolades including the PFA, PWA and EPL Player of the Year awards.
32 of his goals came in the English top-flight - an all-time record - and on his way to reaching the milestone, he eclipsed Drogba's feat of 29 in the 2009-10 campaign after scoring against Bournemouth in April.
And the 25-year-old has revealed that as early as February - when his goal in the Reds' 2-2 draw against Tottenham saw him hit the 20-goal mark - he informed the Chelsea legend of his aim.
"When I reached 20 goals, I spoke with Didier Drogba," Salah told L'Equipe Magazine.
"He told me: 'Please, break the record!' to which I responded laughing: 'No worries, I will!'
"And I managed [it]. So I thought to myself, I have quite a few games to play before the end of the season, I can break the all-time record! It's a great source of joy for me."
Salah, in Russia with Egypt, will hope to shake off his shoulder injury woe - picked in the Uefa Champions League final against Real Madrid - to feature in the Pharoah's opening 2018 Fifa World Cup fixture against Uruguay on Friday.