Primera División
Did Messi make phone call gesture over contract talks after goal?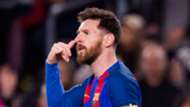 Lionel Messi appeared to send a message to Barcelona's president Josep Maria Bartomeu as he celebrated his goal against Celta Vigo.
The star attacker scored a brilliant opening goal on Saturday, starting the move with a great turn, marauding through the backline and delivering a great left-footed strike that left keeper Sergio Alvarez helpless.
Madrid shows urgency without Ronaldo and Bale
But it was what he did afterward that caught the eye. During his celebrations, Messi appeared to use his hand as a phone and then gesture to the stands.
Given that such moves aren't common for the attacker, was that a message to Barcelona president Bartomeu?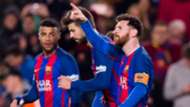 Messi's contract runs through the summer of 2018 and it's no secret he and Barcelona have been at somewhat of an impasse regarding the extending the star's stay at the Camp Nou.
Many of Barcelona stars have insisted Messi will sign a new deal soon, while the club has claimed talks are going very well.
However, despite those comments over the past few months, no new deal has been signed.
Talk on intensified this past week, as manager Luis Enrique announced he would leave the club at the end of the season. Questions arose whether that had anything to do with the Messi contract situation, though sources told Goal the talks would not be affected by Enrique's departure .
Whether or not the gesture against Celta had anything to do with the contract is anybody's guess. But until Messi signs a new deal with Barca, fans will be looking at every possible omen they can find regarding their star's future.