Kaizer Chiefs
Democratic Alliance wants the PSL to appear before the Parliamentary Sports Committee
South Africa Chief Editor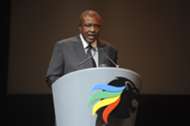 The Premier Soccer League could be summoned to the Parliamentary Sports Committee for the ugly scenes which took place at the Moses Mabhida Stadium in Durban. 
This past weekend, 18 people were left injured after hundreds of Chiefs invaded the pitch and attacked the players, officials and security personnel on the night.   
While the 18 people were badly injured, none of them lost their lives, and at least 17 were discharged from hospital on Sunday, the PSL confirmed on Monday afternoon.
According to the Democratic Alliance (DA) spokesperson on Sports and Member of Parliament Tsepo Mhlongo, the PSL should be called before the Parliamentary Sports Committee to account .
Mhlongo said what makes this recent incident even more unacceptable is the fact that Sports Minister Thokozile Xasa reportedly dropped an inquiry into the incident which took place in a Carling Black Label Cup match between Kaizer Chiefs and Orlando Pirates at the FNB Stadium in July 2017 where two fans lost their lives. 
At the time, hundreds of fans from both Chiefs and Pirates forced their way into the venue, and questions were raised about security measures at football matches involving PSL teams.   
"The DA strongly condemns the violence that erupted at the Moses Mabhida Stadium, that left the destruction of property," said Mhlongo to the SABC.  
"We are going to report this to the Portfolio Committee Chair. We are going to write a letter to summon the PSL to come to account to the portfolio committee… And it is shocking – because this happened after the Minister has dropped the inquiry that was supposed to see exactly what happens to all safety at sports matches in PSL games. This is unacceptable – and we are going to make sure they account – and we are not going to treat this lightly," he concluded.