Kevin De Bruyne
De Bruyne discloses Mourinho dispute which led to Chelsea departure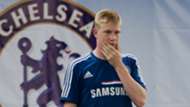 Kevin De Bruyne has revealed how Jose Mourinho's obsession with statistics led to disagreements and his departure from Chelsea.
The Blues put a deal in place for the Belgian midfielder back in 2012, but would offer him just nine first-team appearances before he was offloaded to Wolfsburg two years later.
De Bruyne 17/10 to score v Burnley
A reluctance to trust a then emerging talent has come back to haunt Chelsea, with De Bruyne having developed into one of European football's top creative influences.
He is now back in the Premier League shining for Manchester City and believes that despite being frustrated by his treatment at Stamford Bridge, everything has worked out for the best.
De Bruyne told The Times on his disputes with Mourinho: "I just said I can play. I have no statistics - two games, what do you want me to do?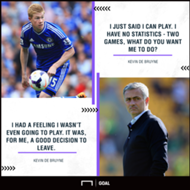 "I had a feeling I wasn't even going to play. Even if he said you're going to play more games, from two games I was maybe going to go to five. It was, for me, a good decision to leave.
"For them, in the end, it was also a good decision. They sold me for more money for a player who didn't play.
"I played in Germany for a good year [at Bremen on loan], so that's why my value went up. But I went to Wolfsburg just to play football. I hate it when I cannot contribute.
"For me, it's more and more about the team now. When I was a young guy I tried to establish myself, play good and be a professional player. The more it goes on, I am less and less busy about myself.
"Now I know I'm an established professional footballer, I'm here, I have my contract, I have everything I want and now it's about winning."
De Bruyne is going the right way about hitting that target this season.
The 26-year-old has been in inspired form for City as Pep Guardiola's side have enjoyed an unbeaten start to the 2017-18 campaign.
They have surged clear of defending champions Chelsea and the rest of the chasing pack in the Premier League title race, while also progressing positively in the Carabao Cup and Champions League.
De Bruyne has been a key figure in City's early-season dominance, registering four goals and nine assists across all competitions.