India
David Trezeguet: 'Football not yet the most popular sport in India'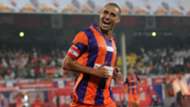 Former France and Juventus striker David Trezeguet has opined that Indian football still has a long way to go when compared to other Asian countries but he sees great potential for the sport to grow in the subcontinent. 
Trezeguet was speaking during a visit to the offices of the Supreme Committee for Delivery & Legacy (SC) in Doha, who are charged with delivering the stadiums and infrastructure for the 2022 FIFA World Cup to be held in Qatar. 
Trezeguet, who played for Indian Super League (ISL) franchise FC Pune City in 2014 before retiring from football, felt that Asian football is the future of the game and also gave his views on Indian football. He explained, "Asian football is the future of football. It is an interesting development, and time will tell how well they achieve this objective. Indian football in relation to others is still behind, and football is not yet the most popular sport in India." 
"But they have a big margin of growth. China is mobilising in a great way in football, and I think the future in India can be in the same direction," he added on a positive note. 
The 1998 FIFA World Cup winner also revealed that he was excited and looking forward to the 2022 World Cup, despite the scheduling issues that have rocked the tournament preparations. "Players will be fresher in the middle of the season, and the football will be more spectacular as a result. We also have to remember that the World Cup brings together teams from around the world, and the edition in Qatar will be a new concept that will be an important change for the world," Trezeguet told sc.qa during his visit.