Opinion
Daunting Tanzania job leading Emmanuel Amuneke to his destiny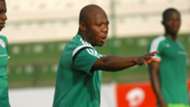 ---
COMMENT    By Solace Chukwu    

Follow on Twitter
---
Emmanuel Amuneke stepped into quite illustrious company earlier this month, becoming only the fifth Nigerian ever to manage a foreign national team.
If the prospect daunts him, the Super Eagles legend does a good job of keeping his apprehension under wraps.
Tanzania is, by every measure, a minnow in continental football, only ever making one appearance at the Africa Cup of Nations, incidentally hosted in Nigeria.
In the qualifiers for the 2018 World Cup, they suffered a 9-2 aggregate humiliation at the hands of Algeria in the second preliminary round. Taking charge of the Taifa Stars will be no cakewalk.
And yet, it will hold a great deal of excitement for the former dashing winger, whose great daring and fiendish left foot took him to the very pinnacle of the African game in his playing days.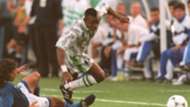 Still only 47, his coaching career has been every bit as colourful: from assistant coach in Saudi Arabia to a brief period in the Sudanese league. He has a love for coaching, by his own admission.
His first big challenge will be getting through to his new charges, both on a social and an ideological level. A quiet demeanour belies a brusque, business-like manner, which is just as well: one of the foibles of East and Southern African football is a lack of clinical edge, perhaps a result of resting on laurels too quickly.
There will be none of that with Amuneke, although that is not to cast him as a joyless, draconian drill sergeant. A fan of pop music and dancing, there is definitely a lighter side to him, even though he leaves no doubt as to what comes first: the result.
Seek ye first the team and its ends, and the fun shall be added unto you.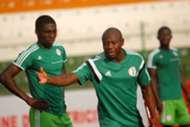 As one would expect from a player who played at Barcelona in the 90s, the 1994 African Player of the Year imbibed quite a bit of the Dutch influence, and it is on that that his tactical approach is modelled. He is, however, more Louis Van Gaal than Johan Cruyff – he did not, after all, play under the latter – which means his football is a lot more mechanized, even while keeping to the same principles overall.
This means a 4-3-3/4-2-1-3 as the favoured shape, but more of a man-oriented marking scheme in midfield. The emphasis is on adequate occupation of the pitch to create passing angles and open up space, and only then individual expression within that strict framework. At its best, it is sophisticated in its simplicity.
At its worst, however, it can be worryingly risk-averse. There is, however, nothing of the shrinking violet about Amuneke's willingness to test himself in various capacities.
In that sense, some of Van Gaal's obstinate belief in his own ability seems to have percolated into his former player: there have been as many setbacks as there have been successes (most notably in his short-lived, eight-match stint in charge of Al Khartoum SC) but the former Nigeria under-17 and under-20 boss continues to back himself and his convictions.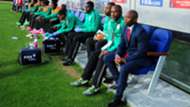 It can verge on the suicidal. When his under-20 side, holding a slim 2-1 lead from the away leg of their African qualifier against Sudan in 2016, were faced with a torrential downpour and a waterlogged pitch in the return leg at home, he insisted the team persist with their stylized passing game.
It backfired spectacularly in a 4-3 reverse, as Sudan's more direct style won over in the conditions.
This sort of idealism is admirable, but one wonders how it would translate to a higher pressure job. He has a great capacity for introspection though, and that ought to serve him well in doses going forward.
It will be key too, if he is to fulfil a destiny that seems increasingly inevitable. There has been a previous Super Eagles manager who arrived at the post by way of a spell in charge of the national cadet team and international coaching stints abroad: the late Stephen Keshi.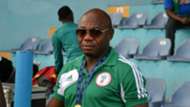 Keshi's exploits with Togo, qualifying the tiny West African nation for the World Cup for the first (and only) time in 2006, made the Nigerian football administration sit up and take notice.
It would not be wise to make that the benchmark, granted; Tanzania have a much longer way to go before the thought of such a feat can even be entertained. That said, were Amuneke to take the Taifa Stars to only their second appearance at the Cup of Nations next year, it would doubtless count as a monumental triumph.
While he was unveiled to much fanfare, and has been asked to play a consulting/supervisory role over the entire national set-up, it is instructive his contract only runs for two years. With an Afcon qualifying group featuring Cape Verde and Lesotho, clearly there is an expectation that he should, at the very least, finish in the runner-up spot for the first-ever 24-nation Afcon.
His longevity in the position could well hinge on it, as could approbation back home and a future in charge of the Super Eagles.