UEFA Champions League
Dashing Elite Man of the Match: Solid Casemiro anchors Real Madrid midfield in the Champions League final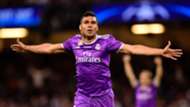 Before the UEFA Champions League final, Juventus manager Massimiliano Allegri had stated that in a star-studded Real Madrid team, the unheralded Casemiro was the main man.
"People talk about Isco and (Gareth) Bale but for me, the most important player would be Casemiro because without him, the team can't play the same," said the Italian. "He is the man who gives balance to Los Blancos and for me, he is fundamental."
And even though it was difficult not to be blinded by the goal-scoring brilliance of Cristiano Ronaldo on Saturday evening, Casemiro proved why he was 'fundamental' to the Real side who capped their season with a stunning 4-1 win over Juventus and won their 12th Champions League title.
Casemiro's goal in the 61th minute seemed to open the floodgates for the Madrid club. After Ronaldo had put the team in the lead in the 20th minute, Juventus' Mario Mandzukic cancelled it out with a flying bicycle kick in the 27th.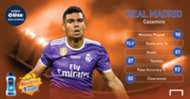 Just past the hour mark, Casemiro took charge of a loose ball, after a Toni Kroos shot was blocked, 30 metres out and sent it flying towards the goal. The ball took a deflection off Sami Khedira's leg to put the goalkeeper, Gianluigi Buffon, off for just a fraction of a second and crashed into the back of the net.
With the spring back in their stride, Real Madrid players stepped up the aggression. Juventus' defence, with their centre-backs Giorgio Chiellini and Leonardo Bonucci at the heart of it, had been the story of the tournament. But faced with Real Madrid's speed and relentlessness, they broke down in the second half.
Even though Casemiro is not quite the headline act, he does the dirty work for Zinedine Zidane and his men. As a holding midfielder, Casemiro was vital with his work-rate against Juventus - he got into a duel 15 times, made seven tackles and two clearances. He also made 53 passes, with an accuracy percentage of 92.5. In the nine matches he played for the team this Champions League season, Casemiro has scored twice, recovered 85 balls and made 26 tackles.  
Having spent most of his time on loan, Casemiro has become a permanent fixture in the Zidane era at the Bernabeu. When the Frenchman took over as the manager of Real Madrid, he had the club buy-back Casemiro from Porto. And Casemiro has been a work horse for his manager.
Not quite known for the Brazilian flair, Casemiro has soon become that kind of player who may not always be visible when he is playing but is sorely missed when he is not.