World Cup
Dare to shut up? Zlatan has been silenced by Sweden's real heroes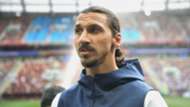 "In the beginning, the first games were different because I felt I can do it much better than them, obviously," Zlatan Ibrahimovic said earlier this week. "And I still do."
Two days later, Sweden qualified for the last 16 of the World Cup as group winners. They have already overachieved; few expected them to get out of a group that also contained Germany and Mexico, having failed to qualify at all for the last two tournaments.
They failed to reach South Africa and Brazil despite the fact Ibrahimovic was enjoying his peak years. Two years ago he failed to get them out of their group at the Euros, despite the fact two thirds of the bloated tournament were given passage to the knock-outs.
If you listened to his version of recent history you would be forgiven for thinking Sweden had won the lot, with him taking the Golden Boot and Ball. 
But the brutal truth is that his best was never good enough to get Sweden to the heights they are now enjoying, and he is now fading into irrelevance for club and country.
After saying he could do better than his countrymen, something he was hinting at as he tried to engineer a return to the side during the spring, he drifted into the usual trope about never having been welcomed by Swedes or the Swedish press.
Ibrahimovic has had to overcome discrimination in his life, and to have forged the career he has despite those barriers deserves genuine credit. But the best days of his career are far, far behind him, and he needs to realise that he is not in this squad because of his own deficiencies, not the prejudices of others.
And even then, you get the sense that those prejudices, certainly the ones he blames for his World Cup omission, are as overblown and bombastic as everything else he says about himself. Remember that Ibrahimovic is the only man to have won the Swedish footballer of the year award more than once. He has won it 11 times. The award is handed out by the Swedish FA and Aftonbladet. Aftonbladet is a newspaper. 
It appears he has a problem dealing with reality.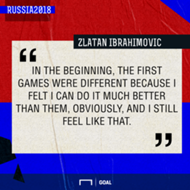 The other theme he returns to at any given opportunity is his row with Pep Guardiola at Barcelona.
Again, Ibrahimovic has a semblance of a point here. Guardiola simply stopped acknowledging the forward, an example of how the Catalan can be difficult, if not impossible, to work for if you do not fit into his plans or if he takes against you. It would not have been a pleasant situation to be in.
But Ibrahimovic has always painted his predicament as if he had been dropped for no reason whatsoever.
He was, of course, dropped so Barca could get more out of Lionel Messi, who went on to become the best player in the world, perhaps the best player ever. Ibrahimovic has never accepted this, let alone acknowledged it.
We could indulge him while he was leading AC Milan and Paris Saint-Germain to trophies, keeping his remarkable run of consecutive league titles going, regardless of where he was playing.
But not now. You would have thought that his quiet exit from Manchester United would have forced some kind of humility upon him.
He did well at Old Trafford, though he did not conquer English football, as is claimed, and his failure to recognise his own limits led to a botched return from a knee injury that required far more respect than he showed it.
He was so caught up in his own hype - insisting he is not a human, but a lion - that he rushed back to the first-team picture way before he was ready, got injured again, and was quickly moved out of the door. 
It looked as though he still had plenty to offer when he rocked up at LA Galaxy and scored two genuinely great goals on his debut, helping his new side come from 2-0 down to beat their rivals, LAFC, 3-2.
But that level has been impossible to maintain and a ridiculous red card in May, when he slapped an opponent in the head and tried to avoid his punishment by sinking to the ground in feigned agony, has been his most noteworthy contribution for months.
Of course, it is from LA that he had been sniping about his international team-mates whenever given the opportunity.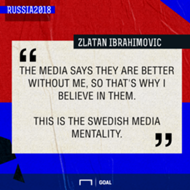 Now he is in Russia, as an ambassador for a credit card company rather than talisman for his country, and he has been at it again.
"I said before the World Cup they'll go far and they'll probably win it," he said on Thursday, after Sweden defied their critics.
Aside from that little attempt to re-write history, he did actually speak with something of a conciliatory tone. 
"I'm very happy, proud to be Swedish, driving around with a Swedish flag, so, we hear them."
Maybe Ibrahimovic really is starting to wind his considerable neck in.
"I took over the world, now Sweden are taking over the world."
Maybe not.