Premier League
Danny Karbassiyoon: Scouting for Arsenal, start-up life and seeking success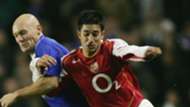 ---
EXCLUSIVE
---
It's been one prodigious journey for Danny Karbassiyoon. The American scout was forced to retire from football in 2007 at the age of 22 due to a serious knee injury, but instead of going down the conventional route and finding regular work within the game, Karbassiyoon is juggling the exciting challenge of being a scout for Arsenal - the club he has held dearly in his heart for the best part of a decade - with the day-to-day running of a football-related start-up.
The mindset behind the man is perhaps one of the most fascinating aspects of conducting an interview, and that's even more apparent with Karbassiyoon who oozes confidence and intelligence, although it is his unequivocal work ethic which really makes him stand out from the rest of his peers.
Arsenal to win any major trophy - 15/8
Speaking about his travails as a young footballer, the journey to becoming a scout and what he's learnt so far, while also touching on tips to succeed in business, Karbassiyoon - who was the first and only American to score for Arsenal - opens up on his career to date in an exclusive interview.
"I'm living in London again. I moved here about 20 months ago after we moved our company over here. We were based in San Francisco originally," Karbassiyoon tells Goal .
"We're building a football game with footballers investing in us for football fans so it didn't make much sense to be based in San Fran despite it being such a tech-heavy city.
"We were pleasantly surprised with how amazing the market is here on the gaming side. On top of all that I'm still scouting for Arsenal on the weekends, across all leagues at a senior level.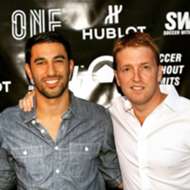 "Doing both of them [start-up and scouting] has been really nice for me. At the weekends I get to switch off a little bit from the start-up side of things and get to do something I really enjoy doing for the club I love in a market which is far more closer to home than the US market and CONCACAF.
"It's been really cool over the past year getting to experience the Premier League scouting side of it, seeing how it works and how clubs communicate with one another when scouts go to various places.
"Generally speaking there's quite a nice rapport among all the clubs regardless of where you're going and people will look out for you."
Success in any walk of life is relative, but Karbassiyoon is fully aware that he can transfer his experience from playing football at a professional level to business. Fury90 is the fantasy football app which the 32-year-old believes can revolutionise the way fans connect with their sporting idols - and his passion for the start-up backed by high profile athletes including Jerome Boateng, Ryan Babel and Philippe Senderos is there for all to see. Interestingly, algorithms in the app incorporate real life statistics from teams and players, which can make the game similar to real life game play and separate it from competitors in the market.
Fantasy: Which players are too popular?
"I spoke at the Anne Frank trust recently at a young professional entrepreneurial event. The whole basis of the talk was that entrepreneurs have three things innately," he said.
"One of them was hard work and knowing that you have to work harder than anyone else to succeed.
"Number two is the desire to take risks and I reference that because at 18 the club [Arsenal] told me that the odds of me making it at Arsenal were very small and I was passing a lot of amazing opportunities academically and on the football side in the States.
"If you are to succeed you need to have what Paul Graham calls 'the cockroach mentality', where no matter what you never die and keep on fighting until the end.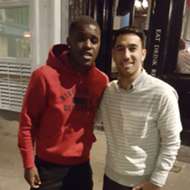 Scouting for the club you love can be a challenging and lonely job at times, but Karbassiyoon says he is continuing to learn and develop with every game he goes to.
He said: "I've learnt that I can survive on aeroplanes and hotels on my own! When you're a footballer you're in a group all the time and as a scout you're a lone wolf, you can't really tell anyone where you're going.
"I'm still learning even when I watch a game, even how tactics have progressed and when you're looking at players it's a game that continues to evolve. Players that were really good 10 years ago playing in a certain system, if they are unable to adapt to other systems then they may not be as effective as they were back then.
Alexis returns to Arsenal training
"It's much more than 'this player is really good' and that's it. He has to have the right attitude, the right mentality, the right heart, desire and want to win - all on top of being a good footballer and athlete as well. Looking for that has been challenging but it's the fun of the job as well.
"When you're building a profile of a player you have to see various facets of their game. You take certain things from the people recommending him and you watch him home, away against difficult and easy opposition.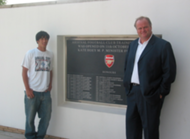 "You can learn a lot about players when they're down 2-0 away from home, who's hanging their head, who's angry at the team, who's completely packed it in. You can learn a lot just from body language and if you go to the game and watch one player you can see things just from casually watching him that you wouldn't necessarily pick up."
Analytics in football has become commonplace, with opposition analysis and player recruitment advancing at a faster rate than ever before. Karbassiyoon uses statistics to make checks on certain players but admits that the best way of spotting a player remains watching them in person.

He added: "There's an analytics team and data team [at Arsenal] which looks at that side of the game that will flag players. It's actually very good for pointing things out that you may have missed or the normal eye wouldn't see. For example, if a player has a 100 per cent pass completion rate across 10 games and he's played over 60 passes a game then it might make sense to take a look at him.

"It helps cast the net further across games and leagues where you don't necessarily have a scout covering all the time. I see it as not only an insurance player, but to back your presentation as a player.
"I think there's still something to be said about 'does he pass the eye test?'. Despite all the technology out there when I go to games there's still 10 scouts sat next to me. I know other people will argue that scouts will be gone one day but I still think the dynamic nature of the game makes it difficult to put a number on absolutely everything.
'Ozil will sign new Arsenal deal'

"Sometimes the most influential piece in the build-up to a goal involves a player's intelligent run off the ball or the awareness to just let the ball roll past him without directly touching it - two things that can be a bit more difficult to visualise with numbers and data alone."
Arriving in a foreign country without knowing the language and culture can be a daunting experience for new signings. Karbassiyoon had his own adaptation period at Arsenal and benefitted from playing at Burnley and Ipswich once he left the Gunners. The Virginia-born scout admits that technical ability can get you a long way but it is the mental aspect of the game which separates the best players from the average ones.
He said: "Anytime you bring a player from such a different part of the world over to the Premier League and you talk about adapting there's a lot of factors that have to take place.
"There's no surprise that a lot of Latin players end up in Spain because it's easy for them to integrate themselves, they speak the language, culturally it's not that different too.
"When you throw someone into Lancashire or Tyneside it might be a little different to what they're accustomed to. That said, the best players in the world can adapt and will settle. I was covering CONCACAF and the type of player there tends to be very hard-working, technically it's starting to get better and better.
"Countries that are hard working, hot countries where the players are outside most of the time. For those people who come over generally - Joel Campbell and Alexis Sanchez for example - work extremely hard for their team and technically they're very good as well.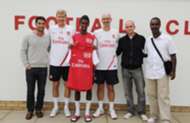 "The tricky part is adapting to the Premier League - the speed of the game because if you're not happy away from the pitch then you're not going to be happy playing football either.
"Even some of the world's best players come to the Premier League and don't settle because maybe mentally they're not right and they find it difficult to acclimatise. If it doesn't happen on the pitch then all the time you're away from it you start to wonder why you came in the first place.
"Players from South America, Central America and even continental countries like Spain and Italy arrive for a big transfer fee and end up leaving due to a combination of the league being so competitive and the player not being able to settle."
Arsenal 2017-18 season preview
So what's next for Karbassiyoon? His start-up received funding in February and is backed by some of the best professional footballers and NBA players in the world. He continues to report on the players who catch in his eye in the Championship and beyond for Arsenal and published a book about his early retirement and subsequent scouting last year.
It's been an exciting journey for the American who has played professional football, scouted professional footballers and continues to leave his mark on the game he loves for the club he adores. And there appears to be no end road in sight for the ambitious Karbassiyoon.
"At the end of the day, I ultimately want to be able to provide value to the people around me," he said.
"For Arsenal, that comes in the way of providing scouting reports that are meaningful and give a club that I love an edge on other clubs. From the start-up scene it's creating something that's never been created and focusing how to get fans to engage with their celebrities and icons in a meaningful way."