Opinion
Daniel Amartey: What does the future hold?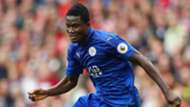 ---
COMMENT    By Solace Chukwu    

Follow on Twitter
---
The early promise of Daniel Amartey's time at Leicester City never really materialised last season, as he appeared ill-equipped to replace N'Golo Kante in the heart of the midfield.
He has youth on his side, but after the troubles of last season-admittedly within a struggling side-he has it all to prove again.
---
The story of last season
---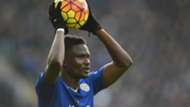 Amartey arrived at Leicester in the winter transfer window of 2015/2016, making one start in Leicester's improbable Premier League title win. Upon the departure of Kante to Chelsea the following summer, it looked like it had been smart succession planning.
Indeed, he began 2016/2017 brightly, starting all but five of the Foxes' opening 20 league games in a calamitous title defence as they came crashing back to earth. He did star in a rousing 4-2 win over a naive Manchester City in early December, but such peaks were a veritable rarity for Leicester in the first half of the season, as Claudio Ranieri reportedly fell out with his squad.
By the time he left for the Africa Cup of Nations in January, it was clear the Kante hole was one too large for Amartey, and upon his return, he only started two more games: 4-2 and 6-1 losses to Everton and Tottenham respectively. In his place sits Nigeria international Wilfred Ndidi, signed for big money from Genk, whose acclimation to the Premier League has been almost seamless.
---
What could happen this window?
---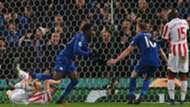 The status quo looks set to remain heading into the new season. In fact, with the versatile and experienced Vicente Iborra signed from Sevilla, places in the Leicester midfield are scarcer than ever.
There is curiously little interest in his services though, and the signing of Harry Maguire, who joined from relegated Hull, means his versatility (Amartey can also deputize at centre-back) is unlikely to work in his favour in that position either.
There have been whispers that Inter Milan are weighing up a proposition, but it looks unlikely to materialize into anything concrete at this present time.
The player is currently in preseason with Leicester in Austria. However, the club have made no secret of their desire to lop off the extra weight within the squad, and are actively seeking to move on a number of players.
It is not inconceivable that, should an offer come in before the end of the window, the Ghana international will have a new place to call home.
---
What to expect next season
---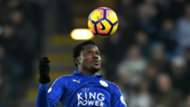 With his path to the starting eleven now effectively blocked, and little by way of interest, it is hard to see beyond a backup role for Amartey in the 2017/2018 season.
Ndidi and Danny Drinkwater will doubtless begin the season as first choice in midfield, with Iborra and Andy King also ahead in the pecking order. In the case of Iborra though, his ability to player higher in midfield, as well as just off the strikers, makes it unclear just how Leicester intend to utilize him.
In his favour though is the fact he seems a popular enough member of the squad, and so the club are at the moment not actively seeking to offload him. For context, they have tried to drum up interest in record signings Islam Slimani and Ahmed Musa.
For now, his easiest route into the team is at right-back. Danny Simpson is very much first-choice, but there is no back-up for the 30-year-old, who unsurprisingly (and like the rest of the squad) was unable to keep the same level as in the title-winning season. With the club competing in three competitions however, Amartey will almost certainly get to deputize at right-back.
Unless, of course, Leicester sign a specialist before the transfer window closes.