Opinion
Damm stakes claim, Monterrey getting better away and more we learned from Liga MX Round 14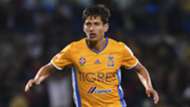 As Semana Santa ends and the hundreds of thousands of Mexicans who traveled to visit family or just get away for a few days return to every day life, there's at least the comfort of knowing these final few weeks of Liga MX will provide a lovely distraction.
MLS Wrap: RBNY reaping academy rewards
Round 14 set up a fantastic race to the finish, with five teams now secure in the knowledge they're headed ot the playoffs. Toluca, Tijuana, Chivas, Monterrey and America will be playing beyond the final three weeks of the season. Let's take a look at some other lessons we learned from Round 14 of the Clausura...
---
Damm must start for Tigres when ready
---

By halftime of Tigres' match with Pumas, the home side should've been leading 3-0, maybe more. It was one-way traffic with midfielders Guido Pizarro and Jesus Duenas controlling the middle of the field to set up Tigres teammates for runs going forward. Yet, despite all the chances, the advantage was only one goal at the break.
Jurgen Damm came in for his first minutes since suffering an injury with the Mexico national team during March's international break and changed things, finishing off a lightning-fast move for his first goal in the 54rd minute and adding a second in the 4-0 romp over Pumas. Points are critical at this stage for Tigres, who could still miss the postseason despite having one of the most talented and most expensive rosters in the league.
We talk a lot about the depth the reigning champions have, and there's nothing wrong with the lineup Ricardo "Tuca" Ferretti fielded Saturday as he again saw off upstart Mexican manager Paco Palencia (Ferretti is unbeaten in six meetings). But Damm showed Saturday that, once he's fit, he provides a weapon Tigres need to have, one that is worth putting big-time winter signing Eduardo Vargas or fellow winger Ismael Sosa on the bench — or playing an attacking lineup should the game permit it as allowed Saturday.
Ferretti generally isn't one to throw caution to the wind, preferring to develop things slowly, but it might be worth a few risks to get Damm into the starting lineup. His speed and finishing are at top level at the moment, and the injury doesn't look to have created too many issues. Once he's fully fit, he needs to be in the first XI.
---
Santos still ... inexplicable
---

What should we make of Santos Laguna? Any other team with one loss at this point of the season would be feted as a title challenger. Yet, with Santos, we're still not even sure if this team is going to get into the Liguilla, so finely tuned is their ability to snatch a draw from the jaws of victory. After conceding an 81st-minute goal to Fidel Martinez in a 1-1 draw with Atlas on Saturday, Santos now has nine draws on the season, four victories and that one loss.
One of those nine stalemates was a scoreless draw. The other eight all saw Santos open the scoring and hold a lead. Yes, that's correct. Santos has been ahead in every single draw that involved scoring, only to give away that lead.
"Draws are good or bad according to the circumstances of the games, and in almost all of the games we've tied there have been a lot more chances to win than to lose," Santos coach Jose Manuel "Chepo" de la Torre said after the match. "We haven't known how to make the difference.
"It always leaves you with this bitter taste, because we've let a lot of points go because of carelessness, because of distractions."
You almost want to stand and applaud not only the fact that the team has just one defeat but also the sheer consistency of it all. At the same time, De La Torre has to figure out how to make his team not switched off, or Santos' playoff run will be remarkably short if it happens at all.
---
Monterrey's away improvement happening slowly
---

As Monterrey's impressive home winning streak in the league rolls on, Rayados also are getting better away from home as they showed in a 1-1 draw with league-leading Toluca on Sunday. There were chances for Antonio Mohamed's men to take all three points and close out the round as the leaders themselves, but it's baby steps from a Monterrey team that has struggled away from home since Tijuana handed it a 2-0 defeat toward the end of February.
Monterrey is yet to find a win away from the Estadio BBVA since that loss in Tijuana, but a draw from a trip to Santos and another from Toluca, a city at altitude where Monterrey has struggled in the past, give coach Antonio Mohamed belief that his squad is improving.
"It's a draw against an opponent that played a very intense match. We could've lost the match but we adjusted and controlled it,' Mohamed said. "It was a good experience because historically Monterrey doesn't take anything from games at altitude and now we're going with a point that keeps us in the classification zone and now at home we can clinch it."
Cruz Azul's defeat means the Clasico Regio approaching this weekend will be less significant for his own side's Liguilla qualification, though Tigres still need points and Monterrey would love to play spoiler. And it's entirely possible Rayados could do so. Edwin Cardona notched his sixth goal of the season and has an outside chance at the Golden Boot, while Carlos Sanchez also impressed Sunday and Dorlan Pabon made a cameo off the bench. There's no doubting their quality at home, and if the road form continues to improve, this is a team that will be tough to beat in the playoffs.
---
Pachuca in perilous state
---

Somehow Pachuca finds itself not fighting for seeding heading into the Liguilla but fighting for a playoff place. This weekend's scoreless draw with Chivas taken at its face isn't a bad result, but in the context of recent results, three points would've been very welcomed by Tuzos.
They've now gone five consecutive weeks without a win in Liga MX play and, shockingly for a team that bagged goals in bunches in the recent past, has failed to score in its last three home matches. With the CONCACAF Champions League looming, manager Diego Alonso elected to make some tweaks to his starting lineup, keeping normal starters like midfielder Erick Gutierrez, winger Jonathan Urretaviscaya and center back Oscar Murillo on the bench ahead of Tuesday's CONCACAF Champions League final first leg.
And while teenagers Roberto Alvarado and Francisco Figueroa held their own against Chivas and look like the next stars produced by Tuzos' ridiculously strong academy, they weren't able to break through. With teams able to key in on Hirving Lozano and Pachuca missing the creative spark that came from now-Chivas midfielder Rodolfo Pizarro, the team is struggling.
CCL may be the priority, but the team sits in a perilous place, and one unfamiliar in the past several tournaments. Trips to Atlas and America are hardly guaranteed points — especially if Tuzos continue to run out of ideas in the attacking third of the field.
---
Cruz Azul playoff drought extended
---

Another season gone by without the Liguilla for Cruz Azul, one of the league's traditional four grandes but a team that hasn't tasted postseason action since 2014. Things were going OK on Sunday, with the team holding on to a 1-0 lead over Puebla heading into the second half before conceding an own goal just before the hour mark and conceding in stoppage time to make sure there once again will be no Liguilla.
Yet, Cruz Azul did what Cruz Azul does — or at least has done in recent years — and collapsed. Though new coach Paco Jemez failed in his objective to get the team back into the top eight and had plenty of backing with signings and patience after a poor run of initial results, firing him may not be the best move. There's something to be said for consistency, and who would take over for the Spaniard? Another former Liga MX manager like Tomas Boy, who also couldn't lift La Maquina out of the rut? Why would the results be any different? Jemez at least brings a fresh perspective to Mexico City. 
At the same time, something has to change. The team's supporters deserve better than continual disappointment. Whether Jemez and/or president Guillermo "Billy" Alvarez are involved, major overhaul is need both on and off the field to put the team back among the league's elite. The Monday morning announcement of ticket prices for this weekend's home match against Chivas, with prices higher than usual because of the marquee opponent, could've been timed better, for one, though the problems obviously are far bigger than some angry tweets from fans.
---
Goal of the Week
---
Come on, you didn't think we were going to let a week go by without giving love to Aviles Hurtado, did you? The Colombian wiggles past one Jaguares defender, then another and finds a wide-open Paul Arriola. The American gets forward and brings Juan Martin Lucero into play, and the Argentine's finish caps off a move that we're awarding this week's honors.
---
Weekly Whimsy
---
José José day at Pachuca pic.twitter.com/glUNJhBrO2

— Nayib Morán (@nayibmoran) April 16, 2017
It was Jose Jose night in Pachuca with the home crowd, plus a huge number of Chivas supporters, uniting before the match to pay tribute to the El Triste singer who was recently diagnosed with cancer. Even Chivas coach Matias Almeyda held up the mask to his face to join in. 
José José recibió un tributo en el Estadio Hidalgo, antes del inicio de #Pachuca - #Chivas.

 pic.twitter.com/gebA2ZRA33

— Mundo Liga MX (@MundoLigaMX) April 16, 2017
---
MORE Weekly Whimsy
---
So, last week we didn't give you any whimsy. This week, we're giving you an extra dose.
We already wrote about Damm's fantastic week, and his two goals make it tough to argue against his quality. The caliber of his celebrations can be up for debate. He paid tribute to Salt Bae with his first celebration, and then pulled a Cristiano Ronaldo with his second.
El Hombre del Día.

Despachó a Pumas a lo Cristiano Ronaldo y a lo Salt Bae. A Jurgen Damm simplemente NO lo puedes odiar.  pic.twitter.com/17c6fMAYEq

— Solo de Fútbol (@DeFutbolMX1) April 16, 2017
---
Weekly Whimsy x3?!
---
The only thing saltier than Damm's celebration is Cruz Azul's social media team, which blocked a number of prominent Mexican reporters for reporting on their latest collapse.
"Cruz Azul's social manager can block as many people as he wants (including journos), but that won't take away the years of failures." https://t.co/uOi9UFIkTL

— Jon Arnold (@ArnoldcommaJon) April 17, 2017