Singapore
Countries with small populations can excel in football including Singapore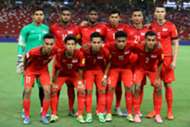 As a Singaporean watching Croatia qualify for the World Cup final, only served to make me believe that smaller countries can excel in football. Now for a country that has a population of just over four million their achievement is truly remarkable especially when you consider Singapore's population is over five million.
Yet, if we dig deeper into history it isn't the first time that a small country has achieved success on a big stage. South American side Uruguay who won the 1930 and 1950 World Cup finals was the smallest nation ever to compete in a World Cup final. Uruguay currently has a population of 3.4 million people, and if we go back to 1930, they were estimated to just have 1.7 million people living there back then.
Hungary, who made the final in 1938 and 1954, but lost both times, had a good 10+ million people living in the country for both of the finals. Sweden, who got whipped by Brazil in the 1958 final, is probably the next smallest after those two, but it's not particularly close.
Now if anything is to go by is that the size of a population has no correlation to a country's success in football and we haven't included Iceland. What is crucial here is how the high level footballing authorities in each country choose to handle the sport.
In Croatian football local club giants Dinamo Zagreb has been responsible for producing some of the country's biggest football stars who have are currently enjoying World Cup success. On the other hand the National Football Academy has produced some of the worst failures this country has ever seen, as shown by our national team's U-19s debacle in the ASEAN Football Federation (AFF) U-19 Championships.
Now this is where FAS (Football Association of Singapore) needs to sit down and take a long hard look at itself. It's not about the country's size but more of whether the people in place have the right policies to develop the sport in Singapore. Singapore as a country has punched above its weight; just look at the Trump and Kim summit in how we were able to play a crucial role in world peace.
It's about time we stop looking at how small we are and start thinking of how big we can be. Football in Singapore is crying out for heroes because looking around, one can only see villains.