COSAFA Cup
Cosafa Cup Match Day 5 Review: Madagascar reach quarter-finals as Mozambique crash out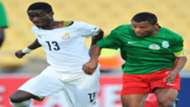 The battle for a spot in the quarter-finals got underway at different venues on Thursday as all the final round of Group A matches kicked off simultaneously at 17:00.
It was Madagascar and Comoros at the Old Peter Mokaba Stadium and Seychelles battled it out against Mozambique at the New Peter Mokaba Stadium.
The race for a spot in the quarter-finals was between Mozambique and Madagascar as they were separated by a point just before the final round of matches.  
The Madagascans headed into the clash looking for a win to seal their passage into the last eight as they had four points from their opening two games.
In their opening match, they manged to beat Mozambique 2-1 and secured a draw against The Pirates of Seychelles in their second match of the group.
However, there were not many chances in the opening half between the Barea and the Les Coelacanthes until the 32nd minute when the Malagasy saw their effort cleared off the goal line.
A scramble in the penalty area saw the Comoros defence fail to clear the ball, handing Madagascar a goal through Jaotombo Bourah heading into the interval.
Madagascar continued to dominate the proceedings in the second half, but they lacked composure in the final third and could not bag their second goal.
In the other match, Mozambique were looking for a win over Seychelles after opening the tournament with a loss and a massive 3-0 win over Comoros in their second encounter.
As they were desperate to find a winning formula in their final group match, the Mambas started on the front foot and their efforts were rewarded when they scored from a penalty spot.
They found a goal through Luis Miquissone, who was brought down inside the box, and the referee did not hesitate to point to the spot and Miquissone converted in the 11th minute.
After both sides returned from the tunnel, Mozambique allowed their opponent to regroup and it was 1-1 in the 52nd minute courtesy of Elijah Tamboo's header.
The Mambas fought harder to regain their lead with Jeitoso, who netted his second goal of the tournament putting Mozambique back in the lead in the 73rd minute 2-1.
In the end, Mozambique could not get a goal as they were hoping to see the group leaders (Madagascar) to lose to Comoros – they now finish with six points whilst the Islanders finish with seven points.
Following this evening's results, Barea will now battle it out against four-time winners, Bafana Bafana at the New Peter Mokaba Stadium this weekend.