COSAFA Cup
Cosafa Cup Group A Preview: Madagascar out to humble Mozambique, Comoros eye Seychelles scalp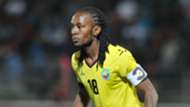 Madagascar will take on Mozambique in their maiden 2018 Cosafa Cup Group A match at the Old Peter Mokaba Stadium on Sunday.
Barea are hoping to impress in this year's tournament by reaching the knockout stages of the regional competition.
They were unfortunate not to reach the quarter-finals last year as they finished second behind Zimbabwe, who won Group A on goal-difference.
Madagascar missed the 2009 and 2013 tournaments, but they impressed upon their return to the competition in 2015 when they finished third, beating Botswana in the bronze-medal match.
They lost 1-0 to Kosovo in their last match which was a friendly game which was played at the Stade Jean Rolland in Franconville, France last March.
Barea will take on a much-fancied Mozambique side, who reached the final of the Cosafa Cup final in 2015.
The Mambas, who were semi-finalists in the 2004 and 2008 Cosafa tournaments, lost to Nambia in the 2015 final.
They will be hoping to go all the way to the final this year and clinch their first Cosafa Cup trophy after struggling in the 2017 tournament.
Mozambique failed to reach quarter-finals after recording two defeats and one win, and they finished third in Group B.
The Mambas are heading into their clash with Madagascar having drawn 1-1 with Mozambique in a friendly match last September.
Meanwhile, Comoros will take on Seychelles in another Group A match at the Old Peter Mokaba Stadium on Saturday. Kick-off is at 16h30.
Les Coelacantes  only began playing in the Cosafa Cup in  2008 tournament in South Africa and they lost their three group matches.
They also competed in the 2009 competition in Zimbabwe, before deciding against taking part in the regional tournament in the 2013, 2015, 2016 and 17 finals.
Comoros will be keen to make history history this year by winning Group A and they reach the knockout stages.
They drew 2-2 with Kenya in their last match which was a friendly game in Morocco last March.
However,Les Coelacantes will take on an unpredictable Seychelles side, who have never reached the quarter-finals of the regional competition.
The Pirates made their debut in the Cosafa Cup for the first time in 2005 when they played in the mini tournament in Mauritius.
They lost all of their Group B games in last in year's tournament and they will be seeking redemption in the 2018 competition.
Seychelles drew 0-0 with Swaziland at home in their last game which was a friendly match last March.