Melbourne Victory
Corey Brown aiming for Socceroos selection after taking up Melbourne Victory challenge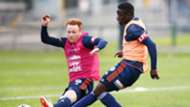 Not long ago, Corey Brown sensed as if his career was on the up and his Brisbane Roar performances were edging him closer to one of his dreams - achieving Socceroos selection and playing at a World Cup.
After spending three seasons in and out of the team, the left back finally nailed a starting XI position in the 2016-17 campaign - starting in 25 of Roar's 29 A-League matches.
"A couple of years ago, I actually felt I wasn't too far [from Socceroos selection]," Brown said in a column for exclusive insight.
"It has always been an ambition of mine to make the Socceroos.
"With the recent World Cup campaign, I just like every other Australian, was watching on cheering through the TV screen at home.
"And for a moment, you can't help but imagine what it would be like to be there, on the field, with the rest of the boys."
But Brown's career stalled last season at Suncorp Stadium, with fitness issues and speculation about his future limiting the 24-year-old to only 11 league appearances - pushing his aspiration of earning a national team cap further away.
Now with a fresh start at Melbourne Victory under Kevin Muscat, the Brisbane local believes he is at the best place to fulfill his potential, but will never forget the institution which gave him his opportunity and started his football journey.
"Leaving Brisbane was the hardest football decision I have ever had to make," Brown said.
"Despite my sights being firmly fixed on the future, I need to take a moment to say thank you to everyone at the Brisbane Roar who helped me become the man I am today.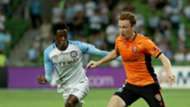 "Last year was difficult, with the injuries and rumours surrounding my future, but knowing all that is behind me now, I can simply concentrate on playing my best football.
"I've come here with every intention to win trophies alongside the team and to help the Victory taste success at the highest levels.
"That's what coach Kevin Muscat has brought me here to do."
Victory didn't have a recognised left-back last campaign, with Leigh Broxham and Stefan Nigro among the players who played at the position.
Brown will start the season as the team's first choice in the role and he sees it as an opportunity to kick on with his career - hoping to become one of the competition's best.
"Looking forward, as I prepare for my eighth season of professional football, I know the time is now to make a real jump," he said.
"It really is a matter of being the best left fullback in the A-League, if I am to be any real chance of throwing my name in the ring [for the Socceroos]
"So that has been a goal of mine – to elevate myself in the conversation as being one of the top three left-backs in the competition."