African All Stars
Copa Coca-Cola Wrap: No Victor, No Vanquished in Ibadan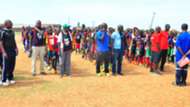 Ogun 1-1 Ondo
The first game of the afternoon between Nawair-ud-deen Junior High School and Ondo Boys High School started with very little intent from both teams. However, Ondo were the brighter of the two in the first half. Kareem Thoheeb and Olalekan Akinfenwa each had chances to put the ball in the back of the net but it wasn't to be.
Ondo's Muse Afolabi crossed the ball into the box but the head of Thoheeb could not connect with it. Nawair-ud-deen Junior High School had a chance from Oga Rokeeb but he sent his shot into the heavens.
It ended goalless at halftime and upon resumption, Ogun State found their rhythm, putting their Ondo counterparts under pressure.  Tunde Olatunbosun had a good opportunity to break the deadlock but he miscued his shot.
Ondo were awarded a penalty and Kareem Kamarudeen was charged with taking the spot kick. He did score but it had to be retaken. Even on the second attempt, Kamarudeen didn't miss, giving his side a 1-0 lead.
It seemed like Ondo where going to claim all three points but Ogun substitute, Azeez Ogunbunmi, scored a free kick at the death to ensure both sides took a share of the spoils.
Lagos 1-1 Ekiti
The second match of the day between Keme Balogun Junior College of Lagos and Christ School of Ekiti State started just like the earlier game. Both sides did not have any real intent but, Ekiti got their groove on and took the lead via Bamgboye Ayodeji. Lagos were poor in the first half and went into the break 1-0 down.
Christ School's Dotun Ogunwole nearly scored what was a solo effort as he dashed from the halfway line of the pitch but he struggled to find his balance when he approached the six yard area. Lagos got the equaliser through Fawas Alimi, making the game even.
Ekiti's Ayomide Adeloju had the chance to restore the lead but the Lagos defence where alert to clear the danger.
There was a nervy moment when the Lagos goalkeeper failed to deal with an incoming ball, thereby gifting his opponents the chance to lead again but he was able to readjust and keep the ball out the danger.
In the end it finished 1-1 and both teams have a lot to look ahead to if they are going to try to make it beyond this stage for the national finals.