African All Stars
Copa Coca-Cola Preview: Ilorin teams must take their chances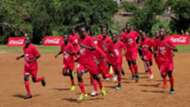 Abuja v Plateau
Having dominated their first game with an impressive display, Fosla Academy, Abuja must  fine-tune their goalscoring skills if they are to outwit Government Secondary School, Plateau.
Meanwhile, their Plateau counterparts must be ready to put in more creativity into their play, plus the ability to put the ball into the net of Gilbert Igwe's side.
 
Bauchi v Nasarawa
Fariah Foundation, Bauchi gave a commanding defensive display against Abuja in their opening fixture. And to get a win against another resilient side in Government Secondary School, Nasarawa they will likely have to replicate such feat at the other end of the pitch.
However, their opposition from Nasarawa must get everything right this time around and be more clinical with their chances in front of goal against make-shift goalkeeper, Abubakar Galadima.