WC Qualification Africa
Congo planning to 'finish' Ghana in Brazzaville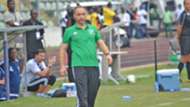 Congo coach Sebastien Migne is eyeing three points in Tuesday's World Cup qualifying clash against Ghana in Brazzaville.
The Red Devils are optimistic of their chances after holding their own in the first leg which ended 1-1 in Kumasi on Friday.
It had to take an 83rd minute Thomas Partey equalizer to deny the Central African side maximum points after Thievy Bifouma opened the scoring in the first half.
"I am not going to tell you what Ghana did wrong that made us get a point here because we have a game on Tuesday," Migne told said.
"All I can say is that the Ghana team is good and rich with many good players.
"My players played to my instructions and I felt that we should have won the game looking at the way we dominated the first half.
"But in the second half Ghana came back stronger and gave it their all and managed to get a goal and a point. 
"We have seen how they play and we are going back to prepare for them on Tuesday.
"Hopefully we will get our first win of the qualifiers on Tuesday against Ghana."
Congo, despite the valuable point on the road, still sit bottom of Group E ahead of Tuesday's clash.
Their poor position has to do with a 2-1 home defeat to Egypt and the 1-0 away loss to Uganda in their opening two matches.
document.write("");