South Africa
COMMENT: Bafana Bafana's draw against Libya felt like a defeat
South Africa Chief Editor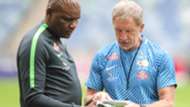 The South African Football Association (Safa) may be kicking themselves for chopping and changing coaches as Bafana Bafana continue to struggle for positive results even against minnows like Libya.
When Shakes Mashaba was sacked, Bafana were on the right track and there was a sense of belief from everyone who loves the natioal team whenever they were playing. 
But since his departure, it looks like Bafana have regressed even with a coach of Stuart Baxter's calibre, South Africa still can't beat relatively smaller countries like Libya, Cape Verde and others.
Saturday's draw against Libya left a bitter taste in the mouths of South African football fans who find it difficult to detach themselves from the senior national team.
Football fans have little faith in Bafana, and they cannot be blamed for their impatience given how poor the team has been in recent years.
While Baxter's is unbeaten in the 2019 Afcon qualifying campaign, the truth is that Bafana lack direction and they're playing for the sake of qualification like in previous years when qualifying for major tournaments was an achievement only to be sent packing very early at the finals.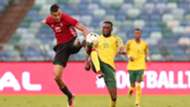 Given how long Safa has claimed to be rebuilding, Bafana should be among the powerhouses of African football on the pitch rather than financially and in terms of infrastructure. 
Baxter coached Bafana over 12 years ago, and his tactics haven't changed since then. Coaching a national team is different to coaching at club level, because one has all the best players he needs to prosper. 
Under Baxter, certain players look average because of his tactics, and the country is going nowhere except making it past the qualification rounds, and this means there is little chance of Bafana lifting the Afcon trophy anytime soon. 
Bafana have already failed dismally to win the Cosafa Cup under Baxter which is a regional tournament and they have not won the Chan tournament let alone qualify for it since their participation in 2014.
Baxter is new on the job some may claim, but he has been in charge of 10 matches (W4, D1, L5) - this record tells that Bafana have not improved since the 65-year-old's appointment in May 2017.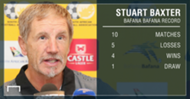 Mind you, Baxter took charge of a team that had not lost in 16 matches in all competitions, and he was expected to build on that and take Bafana to greater heights.
However, this hasn't been the case, and Bafana looked the same as they were about a decade ago, and this isn't good at all. 
Looking at the teams in Group E, Bafana Bafana should qualify, but given how disappointing they have been, one will not be surprised to see them fail, especially against Nigeria whom they beat in the first match and Libya away from home. 
Seychelles are the whipping boys having lost their opening two matches, and Bafana should not have problems beating them, but at this rate, anything is possible. 
Whenever he doesn't have answers for his dodgy decisions and poor tactics, Baxter tends tell the media that whoever doesn't see things his way, doesn't know football; something which will make South African football fans to dislike him than offer the necessary support. 
Baxter knows that this qualifying campaign could be his last chance to save his job, and if he doesn't get his house in order, he will be out of the job in the near future.
The pressure is mounting, and Baxter can certainly feel it now that Bafana are expected to qualify for the 2019 Afcon finals.