Ghana U20
Cobblah anticipates tough return game against Benin in Afcon U-20 qualifiers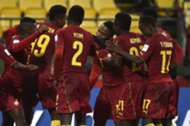 Ghana U20 coach Jimmy Cobblah is expecting a tough battle in the second leg of the 2019 Africa U-20 Cup of Nations qualifier against Benin.
The Black Satellites came from a goal down to win the first leg 3-1, thanks to a brace from Richard Danso and another strike from captain Issahaku Konda in the second half, after Allagbani Saliou had given the visitors an early lead.
"It was a great game for us especially in the second half. After going down very early in the game, I needed to change things but because we were under pressure, I had to wait for half-time and it paid off," Cobblah said.
"The players heeded to the advice and scored three goals to overturn the scoreline. However I believe that we are going to have a really tough game on our hands in Benin in the return fixture.
"We didn't want them to get any away goal here which will make us uncomfortable but such is football. We have to devise plans to control them in the return leg and make it through.
"We are going to attack them in the return leg but with a very compact and solid midfield. They are very good and I anticipate a better performance from them in the second leg but we have an aim to qualify ahead of them and we must do that," he added.
The winner after the two legs will automatically qualify to the Afcon tournament to fight for a place in the World Cup which will be held in Poland.