Transfers
Chippa United coach Teboho Moloi eager to sign Keletso Makgalwa from Mamelodi Sundowns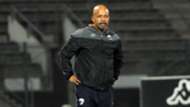 Chippa United coach Teboho Moloi is eager to bring Mamelodi Sundowns youngster Keletso Makgalwa on board to stabilize his front-line.
"You know what, I would love to get the MDC striker of Mamelodi Sundowns, Keletso. I would love to have him, which can give me an option of playing the false No 9, like Sundowns are doing now or play with the two strikers that I have," Moloi told IOL.
According to Moloi, his acquisition would complete his team, but they know very well acquiring him from Downs who usually don't part easily with their players will be an uphill task.
"If they can give me that boy, then I would know that my team is complete. But I know it is going to be difficult dealing with Pitso (Mosimane, the Sundowns coach).
"I know he also loves that boy. I would love to have a midfielder that is in the mould of him," Moloi said.
In keeping with their pursuit, Moloi will communicate with Mosimane to try and struck a deal with the player who has 'something special' within his game.
"That boy can give you something, especially if you play a false No 9. Yes, the boy is not getting game time at the senior team but it will also depend on their MDC team because they have started using him.
"It will depend but I will be in touch with Pitso. Let us wait and watch this space if does happened," Moloi said.
Meanwhile, former Sundowns striker Mabhuti Khenyeza is linked with a possible return to Golden Arrows. 
Khenyeza is currently on the books of AmaZulu, but reports suggest that he's not entirely happy with his lack of game time under coach Cavin Johnson this season.
Neither Arrows nor AmaZulu have confirmed the deal, but if reports are anything to go by, Khenyeza could be back to a team he played for five years between 2002 and 2017 before the January transfer window closes.