WTF
Chinese football match stopped after referee quits to catch flight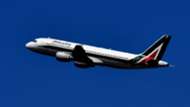 A Chinese referee cut short a China League One reserve match because of fears he would miss a plane trip.
Hangzhou Greentown confirmed to Chengdu Economic Daily the official left the game against Meixian Techand this past weekend because the area's nearest airport only had one daily service of his planned route.
The first half was timed at 40 minutes, while the second period was halted at only 38 minutes.
The Chinese Football Association has launched an investigation into the incident.