African All Stars
Chievo move presents one last shot at redemption for Joel Obi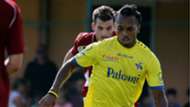 ---

COMMENT    By Solace Chukwu    

Follow on Twitter
---
On Saturday, all of Serie A will stop and stare, faces turned towards the Stadio Marc'Antonio Bentegodi. The sight of the reigning World Footballer of the Year is one for sore eyes; burnt eyes even, if Cristiano Ronaldo brings his usual searing magic to Italy right away.
Chievo will hope, however, that Juventus' new crown jewel is not the star attraction. It is outlandish now, but there seemed a time when their newest signing, midfielder Joel Obi, would not have seemed out of place mentioned in the same breath as the world's best players. The Flying Donkeys must wonder if the Nigeria international still has that spark.
In fact, squint hard enough, and you can see how both sides have taken something of a leap. Ronaldo is obviously one of the most decorated and successful footballers to ever play the game, and is a freak of nature and nurture even at the stately age of 33. Five UEFA Champions League titles and five Balon D'Or wins will attest he is as close to a sure thing as one can get, especially if that one is the single most vanquished side in major European finals.
Yet, it is tempting to wonder at what point he will inevitably begin to wane. The body ages every day, not by the year. What if this summer is a point of inflexion, from which there is a precipitous descent? Plausible, given context? No. Possible? Absolutely.
Joel è qui

E ha già provato la nuova maglia gialloblù! La @SerieA 2018/2019 la giocherà con il suo numero, il

pic.twitter.com/zxQUaIgncQ

— A.C. ChievoVerona (@ACChievoVerona) August 11, 2018
Similarly, with Obi, Chievo are rolling the dice somewhat, albeit in a different way. Having risen through the ranks at giants Inter Milan, the 27-year-old had his significant promise curtailed by a deluge of injuries.
He has, however, remained in the top-flight all the way through, and has again landed on his feet by joining Chievo, despite managing under 60 appearances over three seasons at Torino. A lesser player might not have found it so smooth moving along, and it is clear that, on some level, the latent talent he displayed at a young age still plays a part in their thinking.
They could, in theory, get that player again, if one strains the law of conservation of energy. What they most certainly do get, however, is a player trying to build again. He may still be in Italy's top division, but this summer marks a real fork in the road for Obi.
It was admirable to see him battle his way into Nigeria's squad for the World Cup in Russia on the back of a strong second half of last season. However, it simply served to highlight just how much he has strayed from his stellar best; he survived the final pruning of the squad almost in spite of himself, looking completely effete in the middle of the park.
In his defence, a more defensive role than he was used to might have been to blame, but he failed to seize his opportunity in any phase of play, and it was almost certain going into the tournament itself that he would play no meaningful part.
What is left for him, or indeed of him, remains to be seen. A deal that runs for three years, with an option to extend by another, will take him into his 30s. As such, one can assume this will be his last major contract. Perhaps he will get a bit more room to express himself at one of the league's lesser lights, and we might once again see the player who was once touted as the heir to Jay-Jay Okocha. Considering how lost he looked at Wembley, against some of the world's biggest players, a smaller stage may be just the ticket.
Again, it is often said that it is the mileage, rather than the actual chronological age, that counts. If so, then Obi may have finally gotten over the worst of the crisis, and may be set to finally explode, in much the same way Ronaldo may be set for a sudden drop-off.
The hope, and the uncertainty of it, is what makes football so great, and yet so frustrating.