Mexico
Chicharito staying cool but needs to score and put record talk behind him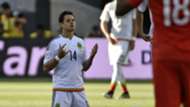 The champagne was on ice, but at this point it's just bobbing around in buckets of water.
Children that weren't yet conceived were born in the time Mexico fans have been waiting to celebrate Javier "Chicharito" Hernandez tying Mexico's all-time scoring record. The chatter started before that, at the start of 2016 when they looked at the calendar and realized how close he was to tying Jared Borgetti's mark of 46 goals for El Tri.
Hector Moreno fit for Costa Rica match
"I want the national team to win. That's it. If I score, I score, like I've said," Chicharito told Televisa on Wednesday. It's the same answer he's given on every occasion before and after he scored against Jamaica in the Copa America Centenario to put him on the cusp of history.
It's a good answer, and Chicharito is a smart guy. He knows the last thing he needs is to heap pressure onto himself by admitting he's thinking about the record. But he's a forward, and he knows it's his job to score goals.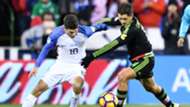 With the Copa America Centenario cut shorter than expected and a combination of a failure to create scoring chances and strong opposing defense in World Cup qualification matches, it's yet to happen. It needs to.
Every team knows Chicharito is Mexico's most dangerous player. Opponents have keyed in on him, and Costa Rica will be no different.
"(Costa Rica) should have more caution in the opening minutes because the Mexican national team is going to come with everything, trying to make in impression that nearly all national teams do at home," said former Costa Rica forward and manager Hernan Medford. "They have to be careful, look after Chicharito. He's a player who can score."
Estadio Azteca losing imposing factor
There is little doubt Costa Rica coach Oscar Ramirez will look after the Little Pea closely, with the Ticos accustomed to playing three center backs and getting Palermo defender Giancarlo Gonzalez back after he missed the opening two World Cup qualifiers.
It won't be easy, but a goal would be a weight off Chicharito's shoulders.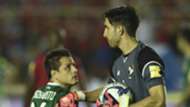 "I want to give everything to help the national team win, and that way we all win," he said. "Because if I score a goal, and the national team doesn't win, the only one who gains anything is me, and I don't like that."
But with several attackers injured and current Hex leader Costa Rica visiting, Mexico does need a goal from Chicharito. It needs him to tie the record, to break the record and continue putting goals into the back of the net to help the team to Russia and beyond.
Because if he can recover his top form in the green shirt the champagne will be flowing and if he can help Mexico get to new heights in the World Cup, fans of El Tri won't even care what temperature it is.