World Cup
Chiamaka Madu calls for restructuring of football in Africa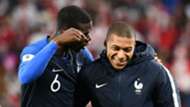 Enugu Rangers' Chiamaka Madu has called on football stakeholder in Africa to work toward building a proper structure for the sport from the grassroots level to dissuade further losses of their talents to European nations.
There are so many players of African descent that are featuring for countries such as Belgium, France, England and so forth at the ongoing Russia 2018 World Cup because of the interests they showed to them by their adopted nations through grassroots football.
Madu disclosed that the trend will continue until African countries especially Nigeria take football seriously and invest so much on it to get similar results nations like England, France and Belgium are getting now on the world stage.
"Football is a serious business and our football administrators should take note of this," Madu told Goal.
"I want to state that nothing comes easy and on a platter without serious contingency plans. France, Belgium, England, Switzerland and other countries in Europe have developed good plans that made it easier for African players to grow through the ranks from the grassroots. It is no automatic that we are losing our best players to them.
"We must have a proper structure and template for football development from the grassroots. Without this, we will continue to lose our best players to them. It is because they have well-orchestrated plans for their development that make them be more comfortable there."
The Flying Antelopes midfielder nonetheless tipped Belgium and England to qualify for the world showpiece grand finale at the expense of France and Croatia based on how they have performed in Russia.
"I will like Belgium and England to play the final game on Sunday because they have shown they are consistent from the start till now." Madu continued.
"It was not an easy feat for them (Belgium) to beat Brazil who were the favourites to lift the title and England too have put aside their unimpressive performance of late to get to the semi-final. They are up against Croatia and I will like them to beat them for a place in the final.
"They are at this stage because they have worked so hard for it. They deserve all the accolades they are getting now. African countries have not really taken sports to be a serious business and until we do that we will continue to play second fiddle, to countries outside our continent."
Belgium, France, and England who have some players with Africa roots playing for them like Romelu Lukaku, Kylian Mbappe, Paul Pogba, Dele Alli and so forth are in the semi-final of the ongoing world showpiece in Russia with these players having important roles to play in their rise to the top.