Pahang
Vathanaka confident on the strength of Pahang's squad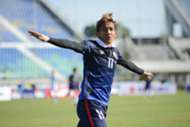 Having previously plied his trade in Japan with Fujiyeda MYFC, Vathanaka is no stranger to the passionate support of the home fans and that is exactly what he is looking for when he takes to the field in competitive fixtures for his new team, Pahang.
The Cambodian became Pahang's ASEAN import signing for the 2018 season but surprisingly he wasn't the only one as the Elephants have also opted to include Singaporean Safuwan Baharudin in their squad to face the new season.
Pahang reached the final of the FA Cup last season and finished runners-up to Johor Darul Ta'zim in the Super League, but with Dollah Salleh back at the helm of the team, is looking to make a big splash in the domestic scene having turned down the opportunity to play in the AFC Cup.
"I was excited to be offered the chance to join Pahang and I didn't want to let the chance go. I'm hugely anticipating the chance to taste the atmosphere in the stadium, after seeing the videos of the team on the internet, seeing how passionate their fans are."
"Encouraging support from the fans here as well as those from my own country is what I'm looking for, so that I'll be able to contribute good things during the league campaign. I'm very optimistic about Pahang's capabilities especially after working with them in the pre-season in Bangkok and I'm sure we'll be challenging for honours," said Vathanaka through the club's website.
When Pahang host PKNP FC in round seven of the Super League on April 4, Vathanaka will get a chance to meet a familiar face in the opponent's team. His fellow Cambodia national team mate Keo Sokpheng has also moved to Malaysia and now plays for the newly promoted PKNP.
Together, there promises to be great interest how the two get on with their respective teams from the entire country of Cambodia.