Adam Swandi
Catching up with: Adam Swandi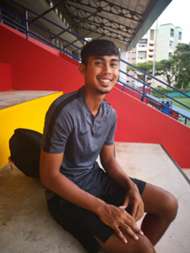 Adam Swandi burst onto the footballing scene as a fresh faced 15-year-old prodigious talent in the 24th Canon Lion City Cup. That competition saw him swagger to the Most Valuable Player award while driving the Singapore Under-16s to a runners-up finish in 2012.
It made him one of the hottest footballing prospects and his career has blossomed since then even taking him as far as France, where he impressed the staff and coaches at FC Metz during a two year trial. However National Service (NS) came calling in 2015 and although that almost derailed his career, it is safe to say he is now enjoying a new lease of life at SPL (Singapore Premier League) champions, Albirex Niigata after signing from Home United last season.
Goal.com Singapore sat down with him to pick his brain over how life at The White Swans has made him improve as a player and what sets them apart from other clubs in the league.
Signing for Albirex Niigata
"It's a huge honour to be part of the club and to be among the first local footballers to sign for them." Adam shared.
"For the past two seasons they have bagged the trophies at all the competitions they entered. The whole nation can see the football they play and the professionalism they have. Even though it's not a big team but they make the best out of what they have. Results are there to be seen and even if the results aren't there, our performances have always been stellar."
"I thank all those who were involved and made it possible for me to be here."
Albirex Niigata's club culture
Moreover Adam ultimately agrees that Albirex's club culture has rubbed off on him. Being in the company of champions he explained ultimately influences one as both a football player and a person.
"It feels like going to Japan everyday especially since everyone speaks Japanese. The only exception is Roy San; our kitman and goalkeeper Shahul (Rayyan); the other local signing for the club."
"However for the first few months, I was the only local player and I had to be disciplined to pick up the language and work with my teammates and so the environment helps you grow not just an athlete but as a person," explained the 22 year-old.
"Over the here the professionalism can never be understated. From the players to the management to the coaches. Even the ones working in office."
"Everyone here does things in a proper manner. They don't cut corners. "
"For example in training we start at 9am. But the players are already here at 8am. They would be out on the pitch at 815am doing their own warm-up. So when the actual warm-up starts everyone is already warmed up."
"Most of the players here are young and hungry. So they use every second to improve like staying after training to perfect their technique. Basically they are eager to make a living out of football," as Adam puts it.
"As a local player you see that and it makes you think further and that rubbed off on me to want to emulate these guys."
Different from local clubs
"Basically over here it's just Japanese style of play. The coach stresses on being compact. We attack as one and defend as one. We move as a pack and there's rarely disjointed play."
"Even the goalkeeper has a part to do in an attacking play while the forwards have a part to do in the defensive play. This is the secret recipe to us getting an upper hand in the games we play," revealed the midfielder.
"In the past, I used to neglect my defensive duties but over here I track back because everyone works so hard and you are influenced by that. I don't know if I am fitter here but now I contribute in both attack and defence."
It is apparent that unity is at the core of what separates The White Swans compared to the other clubs in the SPL. But Adam mentions that the hard work put in by his teammates is also backed up by top notch technique.
"Individually we have players that have amazing technique. Furthermore there is a strong emphasis on basic skills such as passing and juggling the ball."
"On the other hand, at local clubs, they expect you to already have this skills perfected. Over here we do it on a daily basis and that reduces the mistakes we make in games," Adam explained.
On whether FAS (Football Association of Singapore) can learn from the Albirex way
As Adam spoke highly of his current employers, we asked him if FAS could learn a thing or two from how The White Swans manage their daily affairs.
"Apart from the Young Lions, I have only been at one local professional club which was Home United. "
"I can't say much but there's always a differences in any team. For example, if you go to Home United or Warriors FC. Both sets of team will have their own distinct difference and also because yearly there's changes in coaching staff and management."
"But ultimately I feel it's all down to the Japanese culture. The Japanese are never satisfied with their current state. Even if we win by a huge margin our coach still focuses on our mistakes."
"So I would say they can learn from the Japanese' desire to always want to be better and should the right footballing organisations adopt that mentality, our local game will soar to even greater heights." Adam said matter-of-factly.
The future
Predicting the future is a difficult task but for Adam the future concerns representing the national team at the AFF Suzuki Cup.
"Honestly my target this year is to seal my place in the national team. I know it's going to be a challenge considering there are players like Faris (Ramli) in my position. But healthy competition is going to make me better."
As he targets a spot in interim head coach Fandi Ahmad's squad, Swandi mentions of his long-term plan and it seems he hasn't given up the ultimate dream of every budding local footballer who starts out by kicking a ball under the HDB void decks, which is Europe.
"Obviously Europe is still a long-term ambition but you aim for the moon and land among the stars. If Europe doesn't work out I could still see myself plying my trade in Japanese or the Korean leagues."
"I will still continue to work very hard. I am still 22 and have not achieved anything yet. I hope to attain success in the future not just for myself but for Singapore. And if I do manage to bring glory it will definitely be because of my family who are my number one fans from day one of this sweet journey."