Everton
'Buzzing for you!' - Tony Bellew defeats David Haye in heavyweight boxing clash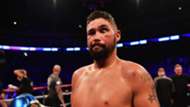 Tony Bellew's shock heavyweight boxing victory over David Haye was celebrated wildly by Everton-associated footballers on Saturday night.
Call Messi! Barca must keep Leo happy
Known by many as the man who 'fought' Apollo Creed's son in the latest Rocky franchise movie, Bellew drove former world heavyweight champion Haye, the overwhelming favourite to win at London's O2 Arena, to throw the towel in the 11th round.
Haye suffered an ankle injury midway through the bout but battled on against increasingly unlikely odds, and Bellew, 34, finished off his 36-year-old opponent with a second knockdown.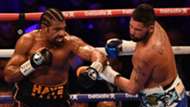 Wayne Rooney, Tim Cahill and Jamie Carragher were among the football icons to tweet their congratulations for Bellew in the hours after his triumph, which sets up an expected fight with Anthony Joshua.
Congratulations @TonyBellew. Buzzing for you!

— Wayne Rooney (@WayneRooney) March 4, 2017
When your promoter tries to be your bestie #HayeBellew pic.twitter.com/IDuARe8mKv

— UK Grime (@UKGrime) March 5, 2017
Another big win @TonyBellew Congratulations bro pic.twitter.com/1Jx7MjRKIf

— TIM CAHILL (@Tim_Cahill) March 5, 2017
Congratulations to @TonyBellew . Had half an eye on what appeared to be an extraordinary scrap.

— Gary Lineker (@GaryLineker) March 4, 2017
Surely there cannot be a rematch! Their dislike for each other is what sold the fight . They are like best mates now. Bellew

— Ian Wright (@IanWright0) March 4, 2017
GET IN, @TonyBellew! #HayeBellew is over after an 11th-round stoppage.

Let's get another Blues win in the capital tomorrow! pic.twitter.com/rbr2cAYXLZ

— Everton (@Everton) March 4, 2017
Yessssssss @TonyBellew what a win!!!buzzing

— Aaron Lennon (@AaronLennon12) March 4, 2017
Yeeessssss!!!!!!!!! pic.twitter.com/QLPzrsgmNh

— Jamie Carragher (@Carra23) March 5, 2017
Class from @TonyBellew at the end. Felt sorry for David Haye. Showed great heart.

— Joseph Barton (@Joey7Barton) March 4, 2017
Hayes corner throwing in the towel like... #HayeBellew pic.twitter.com/6oxKn46Q3x

— Oliver(@Oliver_Sab) March 4, 2017
Class act @TonyBellew

— Charlie Austin (@chazaustin10) March 4, 2017
David haye u big fanny!!! Get down chippy lane u *wa*!!!!!

— Joe Ledley (@joe16led) March 5, 2017
Bellew was a 5/1 long shot to win the boxing fight against his more revered opponent, who famously defeated Nikolai Valuev in 2009 to become WBA champion in the heavyweight division.