Gianluigi Buffon
Buffon wants great final year and welcomes Szczesny and Donnarumma challenge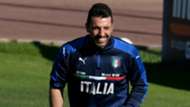 Gianluigi Buffon has vowed to be a "protagonist" in his final year as he welcomes the challenge of Wojciech Szczesny and Gianluigi Donnarumma at Juventus and Italy.
Man Utd agree transfer for Lindelof
The 39-year-old goalkeeper has a year left on his contract and said he wants "one more chance" to win the Champions League after ending the season with a defeat to Real Madrid in the final.
Although he has already established himself as an icon throughout his 23-year career, he wants to go out on a high.
"This could be the last year and I would like to be a protagonist, as I have always dreamed of being," he told reporters. "A year in which we see the Buffon that pays attention to detail and is eager to make his mark. To do that, I have to be important. I will work for this next year. 
"The team goals are a consequence of what you have given and taken throughout the year."
Juventus are said to be close to signing Szczesny from Arsenal, while Donnarumma is pushing for the No.1 spot in the Italy national team, and Buffon welcomes the competition to keep him at the top of his game.
"I've always been a rational person and I've always looked for the meaning of things. It's right that Juve want Szczesny and that there is a good player like Donnarumma at the national team. 
"For me it will be a great motivation twice because, although I am 39-40 years, I have to maintain my place. If I no longer want to play, I'll stay at home because Donnarumma and Szczesny are good goalkeepers by merit, not because someone gave them something."