AFC Champions League
Brisbane Roar fans 'should be proud' - Aloisi
Goal Australia Chief Editor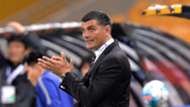 John Aloisi has declared Brisbane Roar are "in a very healthy position" as they look ahead to 2017-18, after their season ended with a 3-2 loss to Ulsan in the AFC Champions League (ACL).
Brisbane led 2-1 at half-time at Suncorp Stadium on Wednesday night thanks to a brace from outgoing striker Jamie Maclaren but conceded twice in the second half to lose to their South Korean visitors.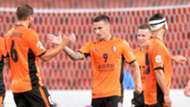 Jamie Maclaren, Brisbane Roar
With Thomas Broich definitely leaving, and Maclaren and Brandon Borrello also expected to depart, journalists asked Aloisi whether it was the "end of an era" at Roar.
Cole, Ibini, Borrello plan moves
Brisbane's coach was unconvinced, claiming Roar have a large number of players signed for next season, but insisted the club has a good group of youngsters to work with next term.
"We can't forget the players we've got coming through," Aloisi said post-match.
"We gave, I think, seven players their debut this season. This doesn't happen many places. Brisbane Roar have always been a team and a club that bring through great young players… and we're proud of that.
"I see that we're in a very healthy position."
ACL 2017: Wanderers win, Roar lose
With an error from goalkeeper Jamie Young having handed Ulsan the lead in Brisbane, Aloisi argued that the home side should have finished their ACL campaign with three points.
"We should have had the win. I thought we dominated most of the game," he said.
"A couple of errors cost us, which was a pity because it would have been nice to finish the season off with a win."
Brisbane's entire seven-man bench against Ulsan was aged 21 or younger, with all but two having made their senior debut this term.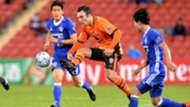 Nick D'Agostino, Brisbane Roar
Considering how the ACL traditionally hinders A-League clubs on the domestic front, Aloisi applauded the performance of his team as they won two continental qualifiers just to play in the group stage and held off Melbourne City and Perth Glory to finish third.
Roar then defeated Western Sydney Wanderers in their elimination final, only to be eliminated 1-0 by Melbourne Victory to suffer a second straight semi-final exit.
"What was the hardest thing this year was the qualifier against Shanghai Shenhua," Aloisi said.
"When we won that, we had to come back within essentially two days to play Melbourne City, and from there we copped a lot of injuries, we had two trips to Perth - the FFA know the scheduling was bad. Considering all that, we ended up nearly in a grand final.
"People should be proud of what they've achieved and what as a club we've achieved."
Last year, the Australia's ACL representatives - Victory and Sydney FC - finished sixth and seventh in the A-League, while champions Adelaide United missed out on the group stage after losing their play-off to Shandong Luneng.