Transfers
Bobby Motaung provides update on Andrianarimanana's move to Kaizer Chiefs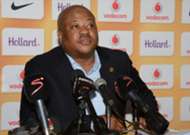 Kaizer Chiefs football manager Bobby Motaung says they expect their new Madagascan recruit Andriamirado Andrianarimanana to arrive this week.
Commonly known as 'Dax', the Malagasy midfielder was signed by the Soweto giants in June after impressing them during the 2018 Cosafa Cup in Polokwane.
Following the announcement of the player's arrival at Naturena, Andrianarimanana's club Fosa Juniors claimed the player is still contracted with them and demanded money from Amakhosi.
The two clubs were still locked in talks regarding the player as he was a notable absentee during Chiefs' appearances at the Maize Cup and Shell Helix Cup pre-season tournaments.
However, reports on Monday morning suggested that the country's football association is helping the player to move to Chiefs.
The midfielder walked away with the player of the tournament award during the regional showpiece, but his club reportedly claimed he belongs to them and is contracted until 2020.
Now, the player is expected to join his new teammates, with Motaung confirming the 27-year-old's imminent arrival.
Motaung was speaking to reporters at the launch of the Mpumalanga Cultural Experience Cup on Monday where they will face Cape Town City on Saturday afternoon.
"Dax might be arriving this week. We're just finalising a few things," said Motaung on Monday.
"Dax's story is a foreign issue. When you deal with some foreign clubs, things chop and change because sometimes it's money issues, which were not there in the beginning," he explained.
"It's just that sometimes there's hostility from some people who just come in and interfere, and start twiddling things around," said Motaung.
"But, I think we're trying to handle it properly and calmly through the football federation and the ministry of sports to assist the boy," he continued.
"There's just a bit of a challenge, but I don't want to deliberate on it with the media. We agreed with the clubs that let's deal with the matter properly and allow the boy to play," added the Amakhosi boss.
"So, we are addressing it. We are dealing with it properly. I think we must just give it respect and time and then the matter will be resolved," he concluded.