WTF
'Bieber better than Ronaldo!' - fans go crazy for pop star's Barcelona appearance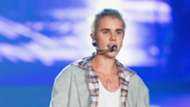 When pop star Justin Bieber dropped by Barcelona training on Monday, fans around the world were impressed with his silky skills.
So much so that he even earned rave reviews, claiming he was better than Cristiano Ronaldo and Paul Pogba!
The Canadian singer was pictured with Barcelona stars Neymar, Rafinha, and Lionel Messi as he took time off from his Purpose World Tour, with fans going online to comment on his prowess in front of goal and share their love for his appearance in a Barca kit.
@Rafinha @justinbieber I DESERVE DEATH HE LOOKS SO SMOL I LOVE HIM MORE THAN ANYTHING. pic.twitter.com/yjZZgcNr6l

— Justin Bieber Fan (@AlanBiebsFan) November 21, 2016
@d_y_diddy Bieber>Ronaldo

— Adam Banspach (@ABanspach8) November 22, 2016
@CliffordTKNott @FCBarcelona @justinbieber no doubt, if pogba is 89£ mil them Justin is triple that!

— Brian (@Briancasablanca) November 22, 2016
@FCBarcelona @justinbieber جاستن بيبر pic.twitter.com/23WwtmyzIn

— shmook (@Sh8_nfc) November 21, 2016
If he should have been a footballer he should have won many BALLON'D'OR #EMABiggestFansJustinBieber #MTVStarsJustinBieber pic.twitter.com/j8FKtTlzvL

— Justin Bieber (@shareeffst) November 22, 2016
However, some Real Madrid fans were less than impressed by Bieber's visit, saying that they were glad he did not stop by their training session!
@fcbarcelona @justinbieber I'm glad I don't support a side with a frontline of Beliebers. I follow a real football team. Hala Madrid!

— David Minchella (@David_Minchella) November 21, 2016
Haha, as long as Bieber stays away from Madrid we'll win the league. https://t.co/TWwTmd7rRG

— Ian McCluskey (@mccdinho) November 21, 2016
O Gawd We are training with Justin Bieber The embarassment. Madrid Fans must be laughing their Ass off

— Lats Warrior (@Lats_Warrior) November 21, 2016
Despite all the furore over Bieber's visit, Barcelona defender Javier Mascherano had other concerns...
Seguimos con el Curso..... Ahora Reglamento y Arbitraje!!! pic.twitter.com/emn8oVVWdL

— Javier Mascherano (@Mascherano) November 21, 2016