Kaizer Chiefs
Bernard Parker: Kaizer Chiefs must move on from the Steve Komphela era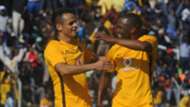 After enduring a three-year trophyless spell under former coach Steve Komphela, Kaizer Chiefs striker Bernard Parker has urged his teammates to move on from the reign of terror.
The Amakhosi veteran says he has buried Komphela's disappointing tenure with the Soweto giants and that he is looking forward to the future.
Parker was speaking to the media on Monday after his goal against Ajax Cape Town was voted as the Goal of the Month for May.
He said it is prevalent in football to see a coach fired or being blamed if things are not going well for a club, saying the former Bafana Bafana defender was no exception.
The 32-year-old also wished his former coach the best of luck in his future endeavours and said their ex-mentor had a great personality.
Although he suffered a number of injuries, Parker managed to net six goals in 20 appearances for Amakhosi, finishing as the club's top goalscorer in the process.
"It's football. If the team is not doing well – and you can see it everywhere in world football – the first finger pointed is at the coach," Parker told reporters.
"(Komphela) is such a good person, he's got a great personality. He did everything in his power and might, and unfortunately things didn't go his way," said Parker.
"In any coach's philosophy it's entirely up to him to bring the best out of his players, and to bring results and consistency," reacted the former Thanda Royal Zulu striker.
"Each coach has their preference as to who they want to have in their team and who they would want to play. That's football, and that's how it goes," asserted the former FC Twente forward.
"I wish him all the best in his future endeavours, and for those who remain it's now up to us to turn things around for the club and make sure that Kaizer Chiefs get to where it needs to be," he urged.
Moreover, the Boksburg-born hitman explained his role in helping the likes of Dumisani Zuma and Ryan Moon upfront.
He said it is not easy for any club to find a smooth transition, but praised the youngsters for playing their role.
"It's not quite easy for a big team to make a transition and expect results so soon," added Parker.
"And the youngsters came through and played their part under the supervision of the seniors, who helped them in a lot of ways," acknowledged Parker.
"Ryan Moon can't stop thanking me for how much I've helped him in his game, and he has been scoring goals – [Dumisani] Zuma as well. I'm mentoring them and pushing them for the best of the club, when I'm not playing," he said.
"When I am playing, I'm leading by example and showing them through my efforts and hard work, and I also get on the scoring sheet," he concluded.