Primera División
Benzema back on song as Madrid show more urgency without Ronaldo & Bale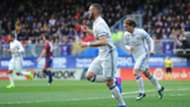 ---
COMMENT
---
Karim Benzema needed a match like this one. In the absence of the injured Cristiano Ronaldo and the suspended Gareth Bale at Eibar on Saturday, Real Madrid showed more urgency than they have in recent matches. And the French forward led Los Blancos to an important win.
Ronaldo scores twice in 3-3 draw
Alongside Ronaldo and Bale in Madrid's much-hyped 'BBC' trident, Benzema is charged with setting up his team-mates as much as he is asked to score himself. But, with those two missing at Ipurua, he could concentrate on his own game and found himself in a scoring position after just 30 seconds.
That move came to an abrupt end as Eibar cleared, but it was a sign of what was to come, an indication that Madrid wanted to take control and dominate after dropping five points in just over a week and losing top spot in La Liga to Barcelona.
Zinedine Zidane's side lost 2-1 to Valencia at Mestalla last week and, after coming back to beat Villarreal 3-2 on Sunday, Los Blancos were held to a 3-3 draw at home by Las Palmas. Five precious points dropped in a week and many of Madrid's players had not been good enough.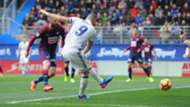 Benzema was one of them and that is nothing new. The former Lyon forward is a wonderful player at his best, but so often looks languid and disinterested as the game passes him by, lacking the sharpness and energy required from a number 9.
Ronaldo breaks La Liga penalty record
Yet he remains so important, dropping deep to link up with his team-mates and often starting Madrid's attacks. The problem comes when he is unable to finish them, but he did on this occasion, beating Yoel at the second time of asking to open the scoring and then poking home a James Rodriguez free-kick from close range to make it 2-0 after 25 minutes.
Those were Benzema's first goals since scoring against Napoli on February 15 and this is the player Madrid's fans will want to see. And there was more to come as well as the 29-year-old set up James for the third of the afternoon before half-time.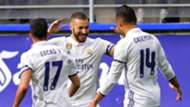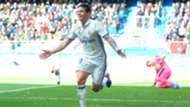 Marco Asensio, left out in the cold by Zidane in recent weeks and without a first-team appearance since playing the final six minutes against Real Sociedad at the end of January, was surprisingly sharp in this match too and added the fourth after James had hit the post. On this form, the 20-year-old deserves to play much more.
Confirmed: Luis Enrique to leave Barcelona
Benzema as well. Despite his dip in recent weeks, he has remained Real's first-choice forward and, even though Alvaro Morata has impressed from the bench, the Frenchman is much more complete than his Spanish team-mate. He just needs to be a little more consistent and score a few more goals.
Against Eibar, he showed his best version as he fought from the start and scored twice to put recent criticism behind him. This is the Benzema the team needs and this was also the level of commitment Real require to avoid results like the ones against Valencia and Las Palmas. Ronaldo and Bale should also take note.