PSL
Benni McCarthy explains why Aubrey Ngoma didn't play against Baroka FC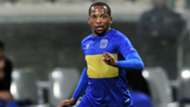 Cape Town City coach Benni McCarthy explains why winger Aubrey Ngoma did not make his first appearance of the season in Tuesday's 1-1 with Baroka FC.
Unfavourable weather conditions at the Cape Town Stadium put McCarthy in a precarious position regarding the introduction of Ngoma, whom he said was going to play on the night.
"I think the fact that Aubrey would have been my second change and then it started pouring so, in training you can see as comfortable and good as he is, he still pulls out of a lot of tackles and on wet surfaces like this," McCarthy said after the game.
"I just didn't want to put the boy's future and career in jeopardy because of my selfishness in wanting to win the game or get a point out of it by sticking Aubrey in and then he has a misfortune, not saying that he would have, but I think I just went for the safety precaution," McCarthy said.
For the Citizens, they are looking at having Ngoma on a long-term basis than risk putting him out early when he has just resumed full training.
"I know that he is a fantastic player that can do well for this team but in the long term going forward, my little guilty pleasure of putting Aubrey in would have jeopardised that. So, I'd rather not risk him breaking down and then have him available for longer periods in the season," McCarthy said.