Johor Darul Ta'zim II
Mora welcomes bigger presence in JDTII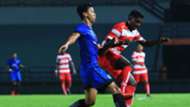 For the 2018 season onwards, Johor Darul Ta'zim II (JDTII) have been confirmed as the development team for Johor Darul Ta'zim (JDT) which precludes them from being promoted from the Premier League to the Super League. But the arrangement provides JDT the leeway to move players between the two teams as they see sit.
And that is an arrangment which JDTII's head coach is comfortable with. Mora currently has in his ranks two players who were part of the JDT side last season in Shakir Shaari and Hasbullah Abu Bakar. The former is 31-years-old while the latter is only 23, at two ends of their respective careers.
Mora also understands that as the season goes on, JDT may well be sending more players down to JDTII on the short term whether as a mean to maintain fitness or to give the players a lower platform to recover from any injuries.
"All players in JDT or JDTII are the same - all within one family. JDT have a lot of games, so for now they send Shakir and Hasbullah. Maybe they will be call back later, because throughout the year, they are participating in a lot of competitions." 
"Shakir is a legend here in Johor with a lot of experience, of course he will be very helpful to the team. Hasbullah is a young boy but with a lot of potential.
"They have enough game for them to play. Maybe once or twice they will be sending some players to help JDTII or to give these players some minutes. So that when they have an opportunity with JDT, they can perform," Mora told Goal.
The Premier League is the only competition that JDTII can play in this upcoming season as the development tag denies them the opportunity to participate in the cup competitions - the FA Cup and Malaysia Cup.
For Mora, he prefers to look at the positives and is relishing the chance to have more chance and time to work with his team. The Mexican is still targeting a high finish for the team in the Premier League despite them not being able to go into the Super League, whatever the outcome.
"We have been training now for almost a month. We still have few more weeks to finish the preparations. We have 3 more friendly matches. For now, we are growing as a team - the style, idea and endurance of the players."
"Always JDT is a winning team, so the target is always to win. To be strong at home and try to take some points away. From there, we'll see how it goes. Remember that we are shaped as a development team compared to the others who are targeting for promotion with more stronger and experienced players.
"But we are going to try our best to best in the top 5 or top 3. The most important thing is to help JDT to develop the players," added Mora.