Portugal
Battle for the Ballon d'Or: Ronaldo vs Griezmann is Euro 2016 final showdown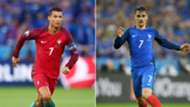 ---

COMMENT
---
When Lionel Messi retired from international football having failed in a final with Argentina for a third successive year, Cristiano Ronaldo must have punched the air and jumped for joy. A fourth Ballon d'Or was certainly his.
How could it not be? He scored 51 goals in 48 appearances for Real Madrid last season, pulled away from his Barcelona arch-nemesis Messi in the Champions League all-time goalscorer tally, and bagged the winning penalty as his club conquered Europe.
Ronaldo dragged Portugal sleepwalking out of the group stage when Hungary had them on the ropes. Then, in the semi-finals against Gareth Bale and Wales, his goal and assist fired Portugal to within touching distance of European Championship glory. He's been a fantastic, if occasionally fractious, captain.
The last time Ronaldo faced an international final was 12 years ago on home soil - Euro 2004, his breakout tournament. For a man with so much confidence in his own abilities, talent at his feet and charisma in his stride, Ronaldo must see this moment as destiny. Win the Euros and, once again, he's the best player in the world.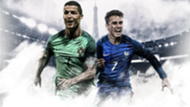 But that one final hurdle could prove to be fatal if Portugal fall - and all because of the outstanding performances of Antoine Griezmann at Euro 2016. Many perceived Paul Pogba as France's main man, but those who had watched Griezmann lead the line for Atletico Madrid this season knew he would be their true golden boy.
Like Ronaldo, Griezmann was sluggish at first, but he scored in the 90th minute to see off a stubborn Albania side when les Bleus were still struggling to string together attacks. Since the group stage ended - and especially since Didier Deschamps swapped to a 4-2-3-1 formation - Griezmann has ascended to world class form.
He's shaken off Champions League heartbreak, when he failed to score his penalty. His matchwinning double against Republic of Ireland was fantastic, his chipped finish to drown Iceland under a sea of goals was magnificent.
All eyes were on Griezmann vs Germany as France played almost Atleti-esque by soaking up pressure without possession. The 25-year-old wounded Germany with a first-half penalty and finished them off with a clinical strike from around 10 yards.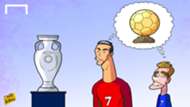 Whether he scores the winning goal on Sunday or not, Griezmann has been France's hero and will surely claim the Ballon d'Or if the hosts win. Antithetically, Ronaldo will be the buoyant face of Portugal's success if they deny France a third successive major tournament on home soil (Euro 1984 and World Cup 1998).
Major international tournaments always weigh heavy on the minds of voters. The final at Stade de France will not just decide the new European champion, it will also decide who will be crowned the best player in the world at the Ballon d'Or in January 2017.