Lionel Messi
'Barcelona or Man City, it's his decision' - Bauza just wants Messi to be happy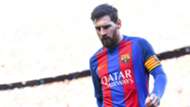 Argentina manager Edgardo Bauza considers Lionel Messi to be happy at Barcelona but is not overly concerned about where his future lies amid intense speculation.
The 29-year-old is yet to agree an extension to a contract at Camp Nou that is due to expire in 2018.
Are Barca and Messi heading for divorce?
Various other leading lights have penned fresh terms in Catalonia, including fellow frontmen Neymar and Luis Suarez.
The fact that Messi is yet to follow their lead has sparked talk that a record-breaking transfer could be made at some stage, with Manchester City considered to be part of an elite group of clubs that could finance such a deal.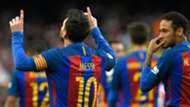 Bauza believes his skipper with the national side is settled in La Liga, with his performances this season suggesting that he feels content in his surroundings.
He told AFP: "I can see just how happy he is at Barcelona with his family around him.
"Of course when Leo is happy that helps him give his best performance, morale is crucial for form.
Bauza: Messi angry at criticism
"A footballer is happy when he is playing and winning, otherwise he is rarely happy."
Bauza is reluctant to speculate on what the future could hold for Messi past the end of this season, with club matters of little concern to him.
He added: "At Barcelona, Manchester City or wherever, that's his decision to take. I just want him to play and that's all.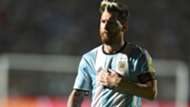 "He's the type of player who always wants to be on the pitch, never wants a rest."
Bauza's focus at present is locked on steering Messi and Co. to the 2018 World Cup, with the 59-year-old convinced that Argentina can complete an enviable trophy collection for their star man.
'Messi the only indispensable player'
He added: "Some say the fact he's won nothing with Argentina means he's not the best in the world, not the most dangerous, not worth as much as some others.
"But we are going to try and win this next World Cup, which will make him one of the greatest of all time."