Friendlies
Bafana Bafana could face Netherlands in this year's Nelson Mandela Challenge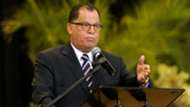 Safa has confirmed that they are in discussions with Royal Netherlands Football Association to get them to play in this year's Nelson Mandela Challenge.
Dominic Chimhavi, who is the  Safa communications manager, says that they are in talks with the Dutch federation to play the match, and should a deal be agreed, the match will take place on March 24.
"Yes we are talking to Holland. We also want to commemorate Nelson Mandela with various activities," Chimhavi told IOL.
It's worth noting that discussions regarding the date of the clash are still uncertain, with the association unsure whether to go for the March 24 date or July 18, on Mandela's birthday.
"There are still discussion on whether we should play the game against Holland on the 24th of March or closer to his birthday (July 18, when he would have turned a 100 had he still been alive)," he said.
Furthermore, should the match be confirmed it would be the second time the two nations play the Mandela match after doing so in June 1997 where the Dutch walked away 2-0 victors at the FNB Stadium. 
The under-fire national team, who once again missed out on qualification to this year's World Cup, has no confirmed match lined up yet for the upcoming international week in March.
They do however intend to make the most of it by taking on the Dutch, and they are also lining up another match four days after the purpoted match with the Oranje.
"On the 27th of March we will play another friendly. We are still trying to find the opposition for that date," Chimhavi added.
The association, who has come in for heavy criticism after the country's recent failure, intends to surprise the masses this year by playing top class opposition. 
"We are talking to different national teams. We will surprise a lot people this year with the type of the opposition that we have lined up," Chimhavi concluded.