Goal United
Back to where it all began - how Hazard became a world-class player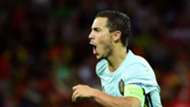 ---

SPECIAL REPORT
---
When Belgium face Wales in the Euro 2016 quarter-finals on Friday, Eden Hazard will return to the place where his professional career began. Well, almost. Lille have since swapped the open Stade Metropole for the state-of-the-art Stade Pierre-Mauroy, and this will be Hazard's first competitive visit.
Though Hazard was born and initially raised in Belgium, he was picked up by Lille as a youngster and the city became his footballing home for nine years. It was while he was in the far north-east of France that his development accelerated and the groundwork was laid for him to become the world-class performer he has been for Chelsea.
"We discovered a little guy who already had an unusual sense of play," Jean-Michel Vandamme, the head of the Lille academy, told Nord Eclair of the 12-year-old player. He had a feeling they were signing a gem.
With Anderlecht circling, Lille had to act intelligently to ensure they could lure Hazard to France and they understood that persuading the player's parents - who were both former footballers - of the merits of their project was of chief importance.
"We never talked about money. Eden said: 'That will come with my performances,'" Francois Vitali, the head of youth recruitment at the club, said. This down-to-earth approach would prove to be critical in the player's development, which was marked by commendable patience.
"It wasn't as easy as you might think," Vitali added. "It wasn't a fairytale. He had talent, but he also had to make many sacrifices."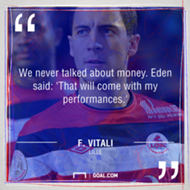 Hazard was earmarked as a player of some promise in LOSC's youth setup and he also excelled with Belgium's Under-17 team as they reached the semi-finals of the European Championship. Hazard was distinguished by his excellent work rate in training, which allowed him to build his physique and therefore develop an already promising game still further.
Just as he was maturing on the field as a player, he was able to retain a fairly level head off the park - though that is not to say he was a perfect student. On one occasion, he was deemed to not be putting enough effort into his physical training, leading Vandamme to call the player in for a talking to – along with his parents.
"Myself and Rachid Chihab had to play good cop-bad cop," Vandamme smiled. "But Eden never went too far. And he had one enormous quality: his honesty.
"I remember one day when we had to call him into my office with his parents. Rachid explained the problems. His mother turned to him and said: 'Eden, is all this true?'
"And he replied: 'Yes, it's true.' He was disarming."
It was after he made his professional debut that his ability came into sharp focus. Aged only 16 when he came off the bench in a 2-0 Ligue 1 win over Nancy in November 2007, he scored his first goal for the club in September the following season, becoming one of the club's youngest ever league scorer behind Kevin Mirallas.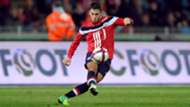 "His first steps into the professional game were complicated," Vandamme explained. "He had talent but he didn't respect all the professional values. When you're young and you're starting in there, you have to raise your hand before you speak. And it's like that for a long time."
Nevertheless, under the guidance of new Southampton boss Claude Puel and then Rudi Garcia, Hazard became a regular and then a star.
His performances during the 2008-09 campaign were stellar and he was rewarded with the prize for the league's outstanding young prospect. It was amply deserved and he was quickly establishing himself as a decisive figure. Against Lyon in the Coupe de France, he gave his first truly virtuoso display in the professional game, setting up two goals and scoring a superb winner in a 3-2 victory.
It was during that season that he made his Belgium debut, appearing off the bench against Luxembourg. He became their seventh youngest international ever, even beating the great Enzo Scifo by a matter of days. Although Hazard had to wait three years before scoring his first goal for the Red Devils, they have won 13 of the 14 matches in which he has found the net and drew the other.
Unsurprisingly, big clubs were starting to take notice of his talents. Arsenal and Bayern Munich were both linked with moves for the player, with no less a figure than Zinedine Zidane praising his potential.
"He's very quick, very clever and he could become a great footballer," the France great told Marca in 2010. "I would sign him for Real Madrid with my eyes closed."
Hazard was able to live up to the expectations, steadily improving his efficiency in both scoring and creating goals. Perhaps surprisingly, he was not in a hurry to push his career to the next level.
"He has very good counsellors around him," LOSC president Michel Seydoux said as the 2009-10 season was drawing to a close and transfer rumours were building again. "He has learned at Lille and he wants to stay here. He knows very well that he can progress here."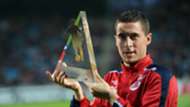 Lille would retain Hazard for two more seasons and he would continue to blossom. By scoring 20 goals in 38 league games, he led his side to a first Ligue 1 title in close to 50 years and added the Coupe de France to boot. The following season, he was named Ligue 1 Player of the Year again but LOSC faltered, failing in the Champions League, losing their crown to Montpellier and bearing witness to the increasing financial strength of Paris Saint-Germain.
He had hit a glass ceiling at Lille and even with the promise of the new stadium to move into in August and Champions League football, the lure of Chelsea - who paid £32 million to sign him - proved too strong.
"He has said that he would like to play in the new stadium and we want to see the new ground with Eden Hazard on the pitch," Seydoux said in 2010.
When the Belgian takes the field against Wales his dream will be fulfilled, though perhaps not in the manner he had envisaged. Nevertheless, Lille retains a terrific affection for Hazard and that is reciprocated by the player, who now finally has the opportunity to make his own history at Stade Pierre-Mauroy.