Transfers
Wenger eyes Sanchez deal as PSG focus on Mbappe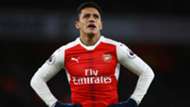 Arsenal manager Arsene Wenger is hopeful of persuading Alexis Sanchez to sign a new contract as he believes Paris Saint-Germain have turned their attention to Monaco star Kylian Mbappe.
PSG, Bayern Munich and Manchester City have all been mentioned as potential suitors of Sanchez, who is in the final year of his deal at the Emirates Stadium.
Lacazette upped to 4/1 to score first v Leicester!
However, PSG have also maintained contact with 18-year-old Mbappe despite the recent signing of Neymar, which Wenger believes will put an end to the reported interest in the Chilean forward.
"I think if you read the French papers they are on Mbappe's case to finish their transfer market," he said at a press conference.
"That's what I read in the papers and on my side I had no contact at all with Paris Saint-Germain [about Sanchez]."
After confirming the ex-Barcelona star will miss Arsenal's Premier League opener against Leicester City, Wenger reiterated he is determined to keep Sanchez at the club and says the club will not be tempted into a late-window sale as they look to tie him to a new deal.
Lacazette, Alexis & Ozil can fire Arsenal to PL title
"It's always possible when players are in final year of contract [to renew]," the Frenchman added.
"We will try to extend the contract. There's no reason why we shouldn't do it but we are not there yet.
"I think we are not open to any offers anyway."