Arsenal
Arsenal need to pay up for Alexis and Ozil or risk losing them, warns Hartson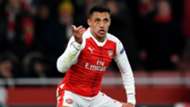 John Hartson has warned Arsenal that they risk losing Alexis Sanchez and Mesut Ozil unless they recognise their respective standings in the global game and offer them suitable financial rewards.
Both men have seen their long-term futures at Emirates Stadium called into question as their current contracts run down with both set to expire in 2018.
There is no rush to get extensions in place, but the Gunners are understandably reluctant to see either enter the final 12 months of an agreement in north London.
Wenger offers Ozil, Alexis update
Discussions are ongoing, and Arsene Wenger remains optimistic regarding his chances of keeping two key men on Arsenal's books, but there is an acceptance that big money will be required to get deals pushed through.
Hartson believes that is only fair, with the Gunners having to acknowledge that paying the going rate for world-class talent is essential if they are to avoid seeing the likes of Sanchez and Ozil slip through the net.
He told talkSPORT: "Yes, you can say they enjoy their football and enjoy playing at the top of their game at the club, but they want to have what other top players are having at other clubs.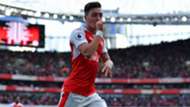 "That's how it works! If you don't pay these players what they want, then they're going to move and get what they want elsewhere. You've got to pay these players what they feel they're worth.
"Sanchez is on fire, and it's not just his goals but his creativity, his flair, his pace. He hardly misses a game, he's hard as nails, and he could probably fit into any top side in Europe.
"If you don't get these top players tied down as soon as their contracts are running out, all of a sudden all the other big clubs come swarming in and you risk losing them.
RUMOURS: Alexis & Ozil want Pogba parity
"I know Arsene Wenger and the club don't want to be held to ransom, they don't want to be held with a gun to their heads in terms of, 'pay my player this or he's off'.
"But there's got to be a balance and I think the agents have to look at it that way as well."
Recent reports in the Evening Standard have suggested that Sanchez and Ozil are looking for parity with Manchester United midfielder Paul Pogba when it comes to weekly salary, with the Frenchman said to be on £290,000 at Old Trafford.