West Ham United
Arsenal exit offers Wilshere 'great opportunity' with West Ham & England - Hurst
Jack Wilshere has a "great opportunity" at West Ham, says Sir Geoff Hurst, with the England door set to open again after parting company with Arsenal.
The 26-year-old midfielder brought a 17-year association with the Gunners to a close over the summer as he dropped into the free agent pool.
His next move has not taken him too far – from north to east London – but a fresh start is intended to kick-start a career which has been blighted by injury struggles.
Hammers legend Hurst believes Wilshere can thrive in new surroundings, with it up to him to prove that he can once again be a Premier League star and regular part of the international fold.
The 1996 World Cup winner told Goal: "It is a great opportunity, I wouldn't say resurrect that is too strong and it is obviously subject to keeping himself fit. That's a very important issue for him.
"He has got the opportunity to play in a side now that we have acquired other players, not just him. I think that's good for the club as a whole.
"If the teams performs well, increases its position with Jack, if he performs then I wouldn't discount him from getting back into the national team squad. That's if he performs like we know he can on a regular basis, without the injuries.
"The team playing well also helps people individually and brings a focus to that player. So I think the two things could combine very well. I think that's an opportunity.
"I certainly think [Gareth] Southgate would pick him, as well as two or three others. They have a chance in the game to come and make a go of it."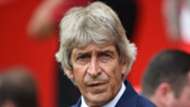 West Ham's next outing is to set to take them to Emirates Stadium, with Wilshere being handed an early reunion with Arsenal.
Hurst is hoping to see a positive collective showing from the Hammers against a side also adjusting to change under Unai Emery, with Manuel Pellegrini still getting to grips with a squad that spent much of last season fending off the threat of relegation.
He added on the club's ambition for 2018-19: "With the appointment of Manuel Pellegrini, a high profile manager, there was always going to be a high budget this year to support the high profile leadership which we have already seen.
"It looks very positive but you never know, like at any club, when you buy a lot of players whether they are going to fit in, whether they are going to perform within the club in this league with their issues. But on the surface, and what we have seen so far, as a West Ham fan it looks very encouraging.
"What we are looking for this year is a gradual improvement, bearing in mind were in the bottom three last year for a long time.
"So improvement for us is, and I am being conservative, is to be in mid-table and out of trouble, not looking over our shoulder and then we can aspire to get towards that top six.
"With the enormous amount of money that the big clubs are spending, we are not there yet, but if we can get close then everyone will be quite happy with that. For me, that would be a big step after what was a disappointing year last year."