Ligue 1
Are you watching Pep? Man City must take note as Monaco become Ligue 1 favourites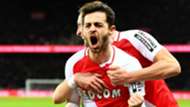 ---
COMMENT
---
Whisper it carefully, but for the first time in four seasons Paris Saint-Germain seem in danger of losing their Ligue 1 crown.
Their match against Monaco on Sunday at Parc des Princes might not have been the blockbuster affair it was cracked up to be, but the slow burner was given a punch by a dramatic conclusion.
Monaco strike late to deny PSG
Edinson Cavani's penalty barely 10 minutes from time seemed to have ensured the points would stay in the capital until Bernardo Silva's stoppage-time drive, which caught out the flat-footed Alphonse Areola, denied them.
Anyone who doubted Monaco's credentials as Ligue 1 champions prior to Sunday's visit to Parc des Princes will now need to reassess their judgement. They reclaimed top spot from Nice, who had won easily against Guingamp earlier in the day.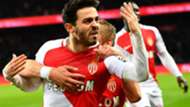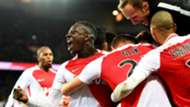 But Monaco are not merely focused on domestic dominance; such has been their strength this season that significant progress in the Champions League should not be ruled out, with Manchester City up next for them.
Pep Guardiola was present in Paris along with Mikel Arteta to bear witness to the team his City outfit will face in Europe's top club competition in a mere three weeks.
While the Spaniard will have been heartened to see the Parisians restrict European football's top-scoring side to a mere handful of chances over the course of the game, he will have taken note of the high-pressing style that posed the Ligue 1 champions problems.
The quality with which Monaco implemented this ploy forced the hosts to adopt a more direct approach than they might otherwise have wished, but the stubborn nature of Guardiola means that he is unlikely to waver from the short passing game that is so characteristic of his sides.
It was only playing in this manner that PSG were able to get any change from their opponents, who have already defeated Premier League opposition in the form of Tottenham, another notable passing team, twice this season.
And they will likely face City with their tails up.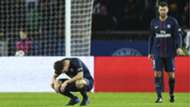 No team in Europe's top-five leagues has found the net more than Monaco this season, who have scored 65 times in 22 outings in a league notorious for being replete with defensive sides.
They showed on Sunday they are also a team able to cope with pressure, in part thanks to the wide variety of scoring threats they possess.
West Ham agree Payet deal with Marseille
But one man rises above the others regularly for the principality side, and he is not one of their star names such as Radamel Falcao or Joao Moutinho. Instead it is Silva, who has cultivated a scoring touch over the last five months and is their ace, as Guardiola had ample chance to witness in Paris.
The Spaniard might not only have seen his forthcoming Champions League opponents; he may just have been present at the changing of the guard in Ligue 1.